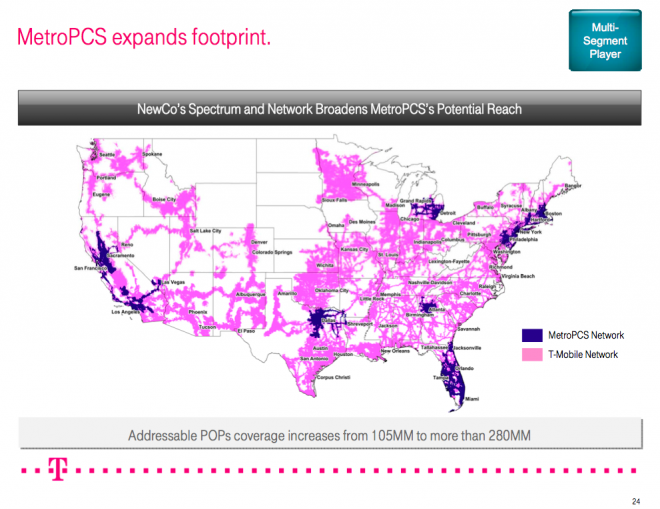 As was the case with the AT&T/T-Mobile merger, there's a pretty good chance the news of a merger with MetroPCS will dominate our headlines for the foreseeable future. Having just listened to an investor call with Deutsche Telekom, MetroPCS and T-Mobile USA, I'm both intrigued, a little concerned and and mostly happy.
On the one hand, this solidifies T-Mobile's place in the US and means even with a slow Deutsche Telekom exit from their US business, that T-Mobile as a name and entity aren't going anywhere. That means plenty more Carly in the future.
Some other pieces of good news include T-Mobile's newly minted CEO emphasizing in no uncertain terms that "We are not, I repeat not going too smash two networks together with two different technologies." For now, it seems T-Mobile and MetroPCS will run as two separate units flying one flag and will come together in 2015.
The merger itself would give the new company at least 50MHz of spectrum in major markets like New York, Los Angeles, Dallas, Boston, San Francisco, Tampa, Las Vegas, Orlando, Sacramento, and Detroit letting it roll out a 20×20 LTE network. Such a network could see speeds almost twice as fast as Verizon's current LTE rollout and up to four times as fast as MetroPCS' current network configuration.
For now, the current plan is to eventually migrate MetroPCS' PCS spectrum (1900MH) over to HSPA+, just as T-Mobile is doing with their current refarm. Metro's current AWS spectrum will continue to migrate toward LTE as the combined company hopes to make AWS the "primary LTE band across Americas." The combined company would have a total of 72MHz of spectrum in the top 100 major metro areas, up from T-Mobile's current 61MHz as of October 2012 leading to improved coverage.
T-Mobile's current 40-60MHz of HSPA+/LTE network will have enough existing capacity to allow MetroPCS customers to migrate directly over to the T-Mobile network immediately upon the closing of the deal, expect in early 2015. T-Mobile expects this to be fairly seamless considering Metro's existing customer base has a 60-65% yearly hardware turnover rate.
Some other key takeaway points from todays investor call:
Closes the half gap to Sprint in terms of customer count
Increase contiguous spectrum for LTE by 40$ by end of 2013
Expanded no-contract, SIM only, mobile broadband and prepaid plans
T-Mobile will work to manage "customer loss" very very carefully
Major emphasis on differences between this merger and Sprint/Nextel, migration to common LTE standard making for a seamless transition
Very aggressive marketing, especially as new network capabilities come up
T-Mobile will move all customers away from MetroPCS by 2015
So, what do you think? This is a vastly different deal from AT&T and one I'm definitely more excited about, albeit a bit nervous as to what it could mean for T-Mobile's pursuit of exclusive flagship handsets.