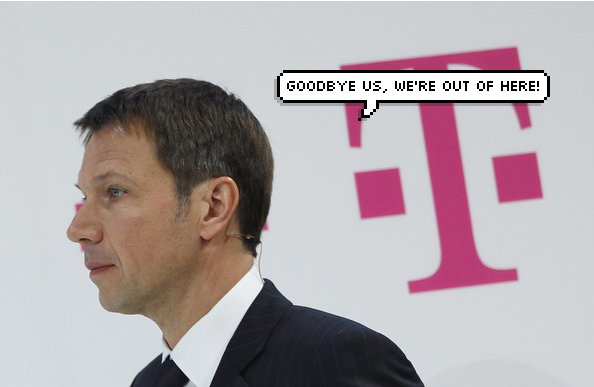 Let's not kid ourselves as we look at todays news that the merger is as much about spectrum as it is Deutsche Telekom's way out of the US marketplace. We've long known that DT wanted to exit America, and their first hope was with AT&T, a deal which went up in smoke as regulators found every reason to hate the potential combined company.
The deal between T-Mobile and MetroPCS is actually considered a reverse-merger, in the sense that it is set up for MetroPCS is effectively "take over" the larger T-Mobile USA. This is being done so that Deutsche Telekom can receive 74% of the new T-Mobile and the "new company" can be listed on the stock exchange, as MetroPCS is already a publicly listed company. This maneuver offers Deutsche Telekom a way out of the US market, if they wished to do so by selling off their shares at a later date.
Deutsche Telekom's wish to leave the US market is, as we mentioned before, no surprise whatsoever. They've long hinted at their want to move away from the US completely and emphasized that during the long fight to hand-off their USA brand to AT&T. The US market is tough, as there is no question that while T-Mobile USA is financially healthy in the sense that they aren't running in the red, they are still a drag on DT's bottom line. The cost undertaken by DT to support their US operations is weighing on the company and causing them trouble in their other markets that desperately need their attention.
The time it would take and the money it would require for Deutsche Telekom to push T-Mobile into the running with Sprint for a real fight for third place is a strong opportunity cost the company doesn't seem to want to consider. The money received from the AT&T breakup fee along with the spectrum received seems to be as far as DT is willing to go with pumping resources into their US operations. If anything, the $1.5 billion they are putting into the MetroPCS acquisition seems like pocket change compared to what it would cost to give T-Mobile USA enough leverage to seriously combat Sprint for third place.
There seems to be little question here that this deal is as much about spectrum, the prepaid market as it is a way for Deutsche Telekom to exit the US once and for all. The only question we're left wondering is how a joint T-Mobile USA, MetroPCS will function once Deutsche Telekom sells its very last share?