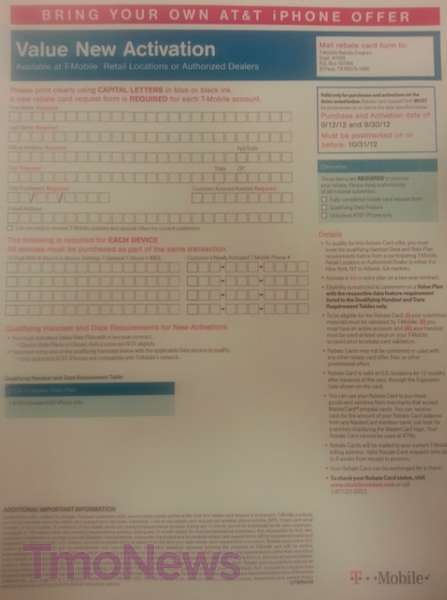 As T-Mobile's campaign to entice to bring their unlocked iPhone's from AT&T over to Magenta kicks off tomorrow, at least some retail locations are offering an extra incentive. Right now we can only confirm this offer for the Northeast and Southeast regions of the country as they take part in a pilot to promote T-Mobile's network with unlimited data allowing customers who activate a Value Plan with their unlocked AT&T iPhone to receive a $100 mail-in rebate.
Just in case you didn't catch that, that's for Value Plan activations and only confirmed in the Northeast and Southeast regions. Eligible customers must activate their unlocked iPhone with a two-year contract on a Value Plan to qualify and this offer is good for new activations only. Customers must choose a 2GB data plan or higher to qualify for the rebate. The offer runs from September 12 through September 30th with rebate forms mailed in by October 31st. The offer is also good for existing customers who add a line onto their existing account, with the unlocked iPhone activated on the newly activated line which will be validated prior to mail-in rebate payout. 
Of course we should mention that all of this is contingent on a bit of patience while T-Mobile works to launch their refarmed network to offer "4G" speeds for iPhone customers. As per their blog post yesterday, T-Mobile expects to have a good part of the top 50 markets up and running sometime during the fourth quarter.