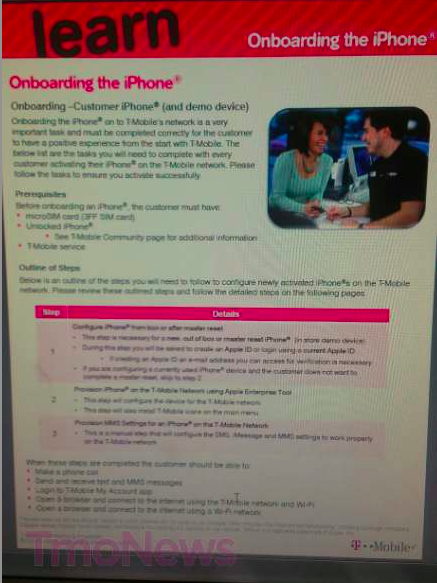 T-Mobile's efforts to prepare their front-line employees for unlocked iPhone support continues with yet another document discovered that highlights the steps taken to ready an unlocked device for T-Mobile's network. This particular list discusses "Onboarding the iPhone" for employees, or a way to help them become more productive in assisting customers with unlocked devices.
There are a few prerequisites necessary to get started, including having a microSIM, which can likely be obtained directly from T-Mobile during the activation process, an unlocked iPhone provided by the customer, and T-Mobile service, either current or activating.
During the setup process, customers will be asked to either "master reset" the iPhone, which we should add is mentioned in combination with an "in store demo device," and creating an Apple ID or login using a current Apple ID. Customers aren't required to reset the device, which in any event will lead us to the second step for activation.
The next step is provisioning the iPhone for T-Mobile's network using Apple's Enterprise Tool, which allows for the configuring of the device on T-Mobile. One interesting piece of information in this step is the installation of "T-Mobile icons" on the main menu. We're not quite sure what that means as most Apple devices are void of any carrier icons.
The third and last step is to provision some settings for the iPhone, which is a manual install that will configure MMS, SMS and iMessages all at once.
The list then goes on to have employees test the device to make sure it's properly working on the network before having the customer leave the store.
T-Mobile is clearly resting some big hopes on the activation of unlocked iPhone's on their network, in the hopes that it will attract iOS users and cut churn as a result of not carrying subsidized iPhone's. Still, reps will continue to be trained to "sell against the iPhone/iOS" "using firm knowledge of Why Android and Windows Phone and direct spec/feature comparisons to overcome customer hesitations."