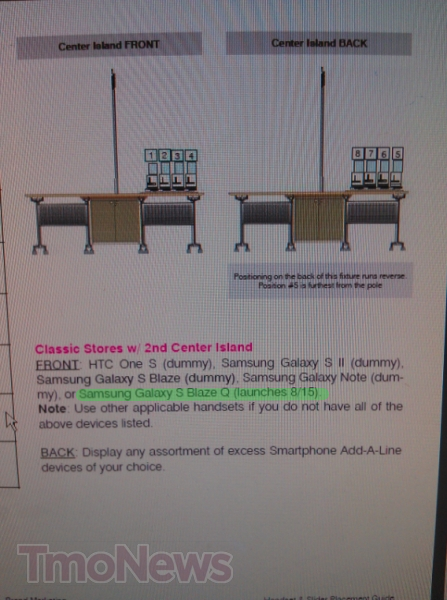 We've been eyeballing the "Samsung Apex Q" for August 15th for some time and now we're able to connect some dots with T-Mobile's next QWERTY device to hit store shelves. We're now ready to call T-Mobile's upcoming SGH-T699 handset, which we've already discovered hanging "in the wild" and receiving Wi-Fi certification as the Galaxy S Blaze Q. Yeah, we rolled our eyes at the name as well.
The name "Apex Q" has been a mystery to us ever since it first appeared on our radar all the way back in April when we first uncovered T-Mobile's planned dates for Ice Cream Sandwich upgrades. We still don't know a lot about the device, but we do know it'll have a 1.5GHz dual core Snapdragon processor, 1GB RAM, 720p HD display, Android 4.0.4 Ice Cream Sandwich, QWERTY keyboard, front and rear cameras of unknown megapixel size.
You can check out a picture of the Galaxy S Blaze Q right here. Looks like you'll be able to get your hands on it come August 15th.
P.S. Anyone catch the Samsung Galaxy Note reference here? Unfortunately, no release date given.