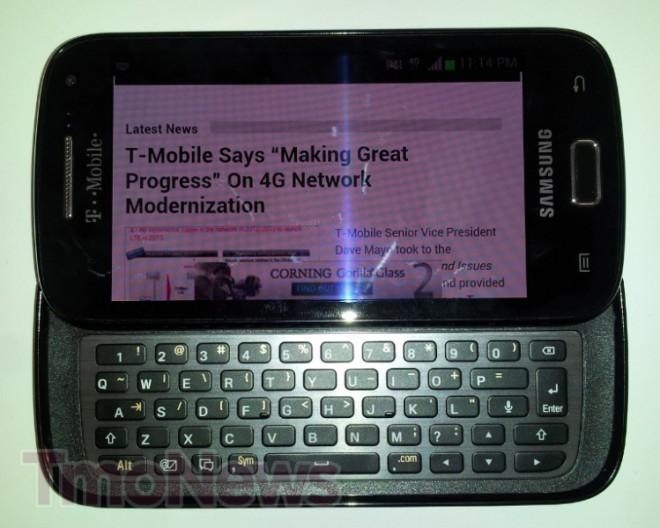 Still wondering about that upcoming SGH-T699 Samsung smartphone headed to T-Mobile? Well, wonder no more! First, let's back pedal for a moment and talk about our earlier speculation that this could be the Galaxy Nexus, a hypothesis that may have been based as much on facts as hopes and dreams. Clearly, we wanted this to be something it isn't. Now, with the above picture we know exactly what it is. I've only been told a little, but there 5 megapixel camera on the rear, along with front-facing camera and an LED notification light as well. Unfortunately, outside of knowing this device hides a Qualcomm Snapdragon processor, (not sure if it's S3 or S4) this is all we really know about about the device. Well, that's not true, we know it runs Android 4.0.4 right out of the box too.
It's not the super mega QWERTY device some of you may have hoped for, but let's be honest, super mega QWERTY devices seem to be a thing of the past. Either way, I have been told this device runs very smooth with no noticeable lag or slowdowns.
The SGH-T699 did appear on the very same inventory sheet we posted earlier in the week, so we hope we'll know the answers to all of our lingering questions soon enough. All that's left now is a complete spec list, price and a release date. That's not asking to much is it?