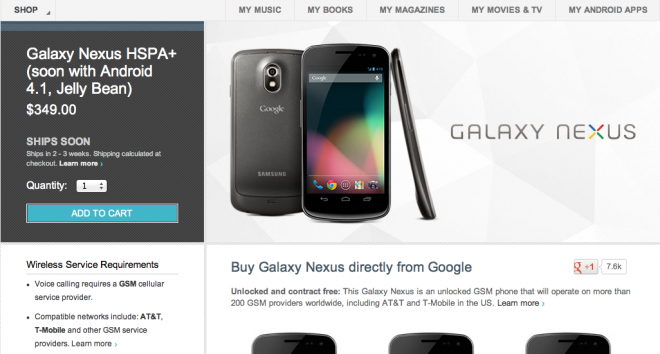 Wonderful news this afternoon as the Galaxy Nexus is once again available from the Google Play store after the lifting of the injunction imposed against the device earlier in the week.  Still, even with its triumphant return to the store, buyers will have to wait between two and three weeks to get it.
The Court of Appeals for the Federal Circuit court suspended the ban on the handset yesterday after Google confirmed the Galaxy Nexus had been pulled from the Play store due to the injunction. The ban is only suspended until Apple can respond to Samsung's request whereas the court will then decide if the injunction should or should not stay in effect.
So what's the reason for the three-week delay? If we were betting folks around these parts, our money is on the Jelly Bean upgrade. No matter what, for $349.99 you can pick up the most contested handset on the market that's also the most up to date Android handset on the market. Just do it fast, before it's gone again.
Thanks everyone for sending this in!