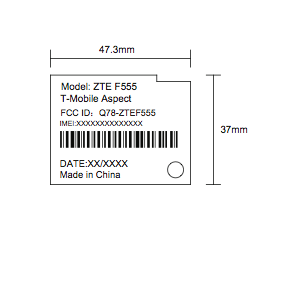 Enter the T-Mobile Aspect, a ZTE-manufacturered device just discovered passing through the hallowed halls of the FCC under the name ZTE F555. As the device appears to only have AWS/1900 on board for 3G/4G access, we're pretty sure we're looking at a feature phone, not a smartphone. For the most part, since the end of 2011, T-Mobile's smartphones have featured at least 850/AWS/1900 on board and as this ZTE device doesn't seem to go in that direction, we're likely looking at something in the feature phone category.
Of course, we're just hypothesizing for now and we could be completely surprised as more details arrive, but I wouldn't be too surprised if this landed on the Monthly4G shelves.
With the details under wraps, we're still just speculating, as the filing on June 29th requested a confidentiality period of 180 days. That timeframe almost never lasts without something leaking out from somewhere, but I'd keep hopes to a minimum for this to be anything other than a feature phone. Still, we're always up for surprises!