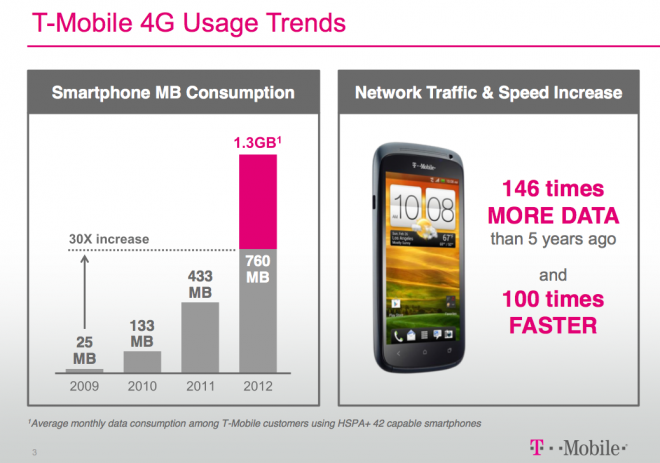 With T-Mobile Senior Vice President Dave Mayo coming out and discussing a bit on T-Mobile's current network modernization project, we almost lost comments from T-Mobile's Chief Technology Officer, Neville Ray. Ray dropped one very interesting factoid during a presentation at the NGMN conference in San Francisco — T-Mobile's HSPA+ 42Mbps smartphone users consume 1.3GB of data per month on average.
This figure of course comes just two weeks after a T-Mobile "expert" highlighted that T-Mobile's total 4G customer base average close to 1.7GB per month, almost 50% higher than the closest competitor, Sprint.
Some other highlights from Ray's keynote:
T-Mobile's 4G network now reaches 220 million pops in 230 markets
50% of contract smartphone customers use a 4G capable device
T-Mobile's HSPA+ 42Mbs network covers 184 million pops in 185 markets
You can see the slideshow over at the source link, and I'd like to say that its clear to me that T-Mobile's focus on their much higher data usage per customer, lets us know that they are focused on allowing people to use their data plans a little more freely than the competition. At least I'd like to think that's the case. T-Mobile may be one of the few carriers that understands wireless data is going to continue to be used for content creation and not just content consumption.
You can see the slideshow from Ray's keynote, though there isn't a lot of new material at the source link.