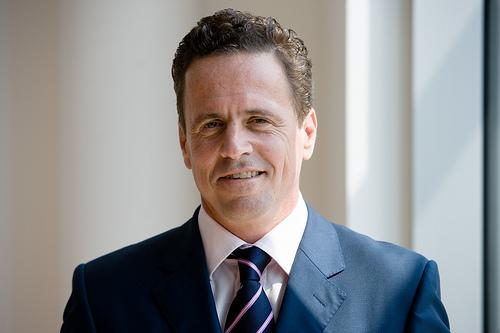 T-Mobile CEO Philip Humm is playing a bit of offense thanks to an interview with the Seattle Times, helping to get out of front and allay any fears that T-Mobile's recent job restructuring cuts are of any real concern to the future of the company.
Humm highlights that while 900 positions are being eliminated on one side, the company is adding 550 new positions which he believes was misunderstood. Furthermore, Humm says T-Mobile is looking at other expenses or numbers of staff layers so they can create the most agile organization.
When it comes to growth, Humm sees a lot of potential in the B2B area, which is responsible for T-Mobile's recent announcement of more than 1,000 job hires in that department over the course of the next two years as T-Mobile assigns resources to this department. Humm emphasizes T-Mobile's need to grow their 5% marketshare in the B2B arena and believes with T-Mobile's value and 4G network, they are poised to grow.
Humm also reiterates T-Mobile's commitment to affordability, while declining to talk about the potential on increased prices in the future:
I don't think there is a need for less affordability or changing our price positioning. We have good price positioning now. It's really adding the tech aspect to our brand and really restarting the brand.
When the interview turned to the iPhone, Humm's answer is in line with the company's positions thus far in 2012:
At the end of the day the iPhone is a good and important smartphone. The question is, do we need to carry it and subsidize it or do we simply open up the network to let people bring the iPhone with them?

We have been quite successful very quietly in really offering unsubsidized rate plans. If you look at our growth … 45 percent of our growth adds are unsubsidized rate plans. We already shifted the model at T-Mobile quite significantly.
As for T-Mobile's positions on Windows Phone, Humm says T-Mobile is "quite pleased" with how the OS has performed on T-Mobile store shelves. He also believes that Microsoft is equally pleased with how T-Mobile has handled Windows Phone sales leading to an improved relationship all around.
As for T-Mobile's future as a standalone company?
We are pretty sizable company; we are profitable and we are on the right path to growth. … That's really our main point of view, to strengthen our own business and come back to growth.

Beyond that we will always look at opportunities to gain additional scale or additional spectrum or strengthen capital structure in the U.S. market. Those are always things we will be looking into.
Read the full interview at the Seattle Times link below.