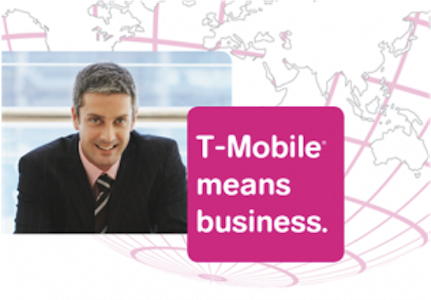 In the hopes of finding new areas of growth, T-Mobile is adding 1,000 more Business-to-Business (B2B) sales people to grow their presence in the enterprise market, an area T-Mobile now holds around 5% of the $60 billion dollar B2B market. Matt Millen, Vice President of Small and Medium Business Sales for T-Mobile said in an interview at CTIA Wireless 2012 that the company is launching an aggressive strategy to grab a bigger share of the B2B pie.
T-Mobile is looking to "restart" their B2B strategy in the wake of their failed deal with AT&T, Millen said by "reinvigorating" the B2B process. With the addition of new sales people over the next 18 months and a $4 billion dollar spending in network upgrades, T-Mobile hopes to entice B2B customers to give the network a try.
Marc Rohleder, Director Sales Engineering for T-Mobile's B2B sector said the company's LTE upgrade on AWS upgrade provides economies of scale as well as international roaming benefits. He also emphasized T-Mobile's HSPA+ network providing current benefits for businesses.
Rohleder pointed to a study by Neilsen that ranked T-Mobile as either first or second in network quality among US operators in over 85% of the markets studied. "We have the national footprint and the speeds that our customers need in most major markets," Rohleder said.
T-Mobile also relaunched their small business rate plans, including a plan for business that has needs as few as one line. Moreover, leveraging parent company Deutsche Telekom's network, T-Mobile can offer up to a 87% discount on international calls.
"One of the things we'll do is listen to the marketplace and make determinations on solutions we have and through partners," Millen said. "We will take full care of our business customer needs."