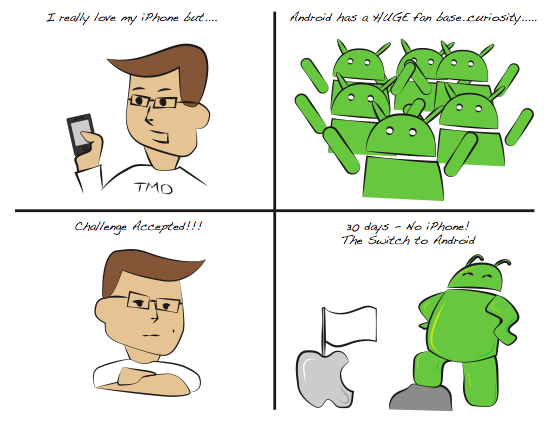 I've chalked up a full ten days on my Android 30 day experiment and with 1/3 of the challenge behind me, I'm happy to say I'm truly enjoying myself. That's not to say all is right in the Android world, there are little nagging things that frustrate me that aren't necessarily better on any other OS, but overall I'm really enjoying this month.
The first thing that has me really in love with Android is the "single sign-on," or a version of that exists on Android handsets. By this I mean when I download a new app that requires my email, the phone automatically populates existing email addresses and signs me into whatever app I'm working with. That's not the case with the iPhone and it's frustrating to not have that option. That's not say this is something I use hourly, daily or even weekly, but when you have something like this, you really begin to love its purpose. This is one of the single greatest parts of the Android experience I've had, and in the grand scheme of things it's fairly minor. Still, it's one of those add-on extra parts of the Android world that you don't truly appreciate until you no longer have it.
On a side note, I have swapped handsets a few times since the four-day report, and I'm using the Galaxy S Blaze 4G right now, though I have used the Galaxy S II as well. My go-to is still the HTC One S and that's the generally the phone I use when I'm out of the house for long periods at a time. One nagging thing I want to mention is something you'll likely all agree with, the constant flow of new Android handsets. As a owner of multiple smartphones and overall tech geek, I'm constantly on alert for new announcements. Never-mind my role as a tech blogger, the tech geek in me wants to see new handsets, technology and devices. It's difficult to "own" something that's one of the newer devices on the market and still take notice of phones even newer. This argument falls more on the subsidy feature in the US and how aggravating it is to buy a phone with a two-year contract and literally be stuck with it for 20-24 months depending on your carrier's upgrade policies. More importantly, this has little to do with my Android experiment and certainly isn't impacting my views on using an Android device day to day, but it's something I take more notice of as I see new features unveiled on the Galaxy S III that Sense 4 doesn't have and vice versa. This is something iPhone owners don't deal with, we only have one phone a year to look forward to. That's both a blessing and a curse.
One more thing that I've absolutely fallen in love with is the ability to replace most of the default apps with something from the Google Play store. This is something I don't typically do when reviewing phones because I'm trying to use the phone as-is out of the box so I can give it a proper review. When it comes to reviewing devices, starting to replace the Android overlay with launchers and replacement apps takes away from my thoughts on the device itself. With these being my own devices (minus the HTC One S which is on loan from HTC) I'm making huge strides to personalize the device and I've asked you on various social media channels which launcher, apps, Twitter apps etc I should play around with. For the record, I'm using Go Launcher now. On a recommendation I installed Handcent as a replacement SMS app and it's great, fantastic even. The thing is, I know Handcent isn't the only option out there and I've even taken notice of Go Launcher's own SMS widget. I've swapped Gmail for Samsung's own mail program (and Sense mail when on the One S) mostly because Gmail frustratingly doesn't allow me to view my mail with a unified inbox. That's incredibly stupid for Google's own Gmail application.
The ability to replace apps is something that is wonderful about Android and one of the single best reasons to own a Android device. When it comes to the iPhone, I was using Sparrow mail since it's release on iOS, an app I swear by on my Mac. The thing is, you can't make it the default mail app, at least not without a jailbreak. It's a fantastic mail app on the iPhone and while it has a reserved spot on my dock, I can't make it a default program. That's not something that causes me all that much grief, but the ability to replace default apps is ridiculously great for Android.
Apps like Swiftkey are still in my lists of hardcore must-haves and I want to thank Swiftkey for my recognizing my earlier recognition and reaching out to say thank you. It's I who must thank you Swiftkey folks for making a keyboard that is so bleeping awesome.
So what am I missing about iOS? The one thing I've always said is great about iOS is the kinetic scrolling and I stand by that claim. Palm, HTC, Samsung, LG — none of them have developed hardware that matches Apple's kinetic scrolling, and in my opinion, it remains the standard. That's not to say others are bad, quite the contrary, but Apple still has the best kinetic scrolling experience on a smartphone, bar none.
All in all, I'm still more than thrilled with how my Android experience is going, save for the idea that I constantly want to try new phones. I really want a Galaxy Nexus, after saying I wouldn't use it initially, now I want it, at least to try. As a final thought, if you're asking (or even wondering) if I'm planning on staying with Android when all this is said and one…well, you'll just have to wait and see.