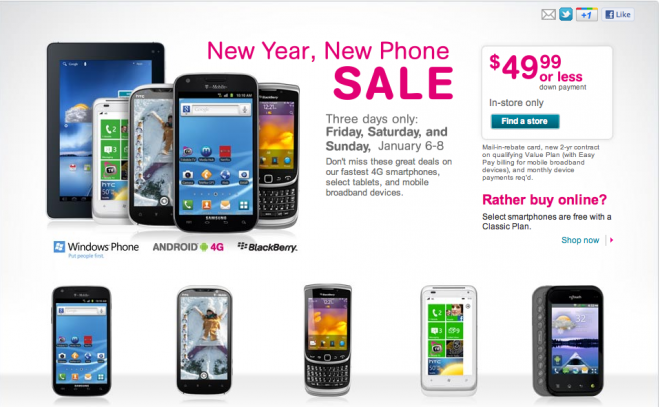 This is your friendly reminder for T-Mobile's "New Year, New Phone" sale going on now through Sunday, January 8th. Did you already forget the special offer? "All smartphones and select Mobile BroadBand devices in T-Mobile stores will be available with a new down payment of $49.99 or less, when purchased with a qualifying new Unlimited Value Plan."
Thinking about picking up a phone? See if you qualify:
New activation and add-a-lines
Any Classic, Legacy, or existing Value Plan customer qualifies for this promotion

There are no contract or handset tenure requirements
Standard migration fees apply for customers switching to Value

2-year contract required
Must activate or upgrade to Unlimited Value Plan with qualifying data feature
Variable data requires: Smartphones (2GB) or 42Mbps Superphones (5GB)
Qualifying Rate Plans: Unlimited Value Family Plan, Unlimited Value Single Lines and AAL (Must have unlimited minutes add on feature)
Any webConnect Value rate plan of 2GB Or higher
Are you stuck on your Classic plan but thinking about adding another line? Check out your local T-Mobile Retail Partner Store for a special Classic Plan offer.