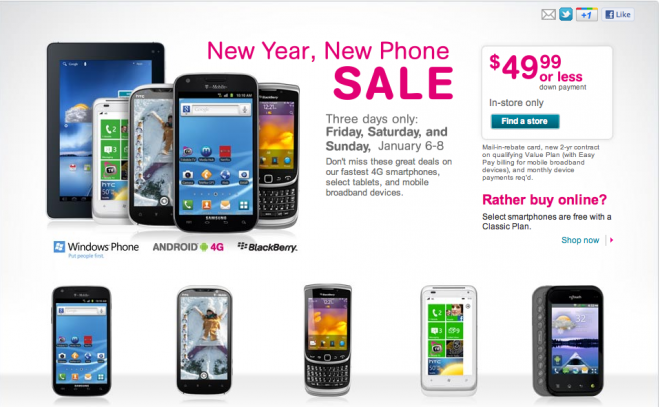 While we always feel that the week leading up to CES is a silly time to buy a new smartphone, we can't stop you from having your heart set on something T-Mobile currently has in their lineup. With that in mind, T-Mobile has formally announced their "New Year, New Phone" promotion. The details are exactly what was leaked yesterday with the promotion running from Friday, January 6th through Sunday, January 8th. Almost all of T-Mobile's devices are available for $49.99 or less. Of course, each deal requires a mail-in rebate card and the selection of a qualifying unlimited Value Plan. Payments start at around $10 per month on phones or $5 per month on mobile hotspots. The Galaxy S II, HTC Amaze 4G, myTouch 4G Slide and all the rest of T-Mobile's Android and Windows Phone lineup are ready for your purchase.
Hit the full press release for all the info. Or just check out our posting from yesterday breaking it all down.
T-Mobile Rings in 2012 with the "New Year, New Phone Sale"
On Jan. 6–8, all T-Mobile smartphones and select mobile broadband devices are available for as little as $0–$49.99 net down
BELLEVUE, Wash. — Jan. 3, 2012 — Following last year's successful holiday promotions such as "Magenta Saturday" and the "4G Super Sale," T-Mobile USA, Inc. will help value seekers kick off the new year with the "New Year, New Phone Sale." For one weekend only, Friday, Jan. 6 through Sunday, Jan. 8, T-Mobile is giving customers the chance to purchase top devices, such as the HTC Amaze™ 4G, Samsung Galaxy S™ II or the T-Mobile® Springboard™tablet, for $49.99 or less net down payment — after a mail-in rebate card — when customers sign up for a new two-year agreement on any qualifying T-Mobile Unlimited Value™ plan.1
"Some people join a gym as a New Year's resolution while others vow to stay in better touch with friends and loved ones, and T-Mobile wants to help with that resolution," said John Cleland, Senior Vice President of Marketing, T-Mobile USA. "For consumers who didn't get the latest mobile phone for the holidays, T-Mobile is giving them a chance to welcome in the new year with the hottest new devices at an affordable price and help them stay better connected in 2012."
New customers will be eligible for this deal when they sign up for a two-year agreement on any qualifying Unlimited Value plan2. Existing customers also can take advantage of this great sale if they are eligible for an upgrade, meaning they have been on their current service contracts for 18 months or more.
The following is a sample list of some of the exceptional devices available through the "New Year, New Phone Sale":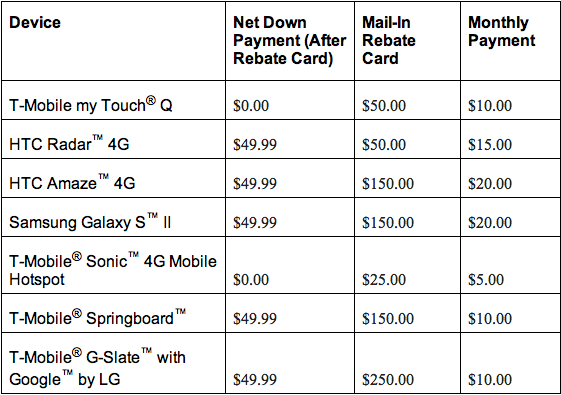 The "New Year, New Phone Sale" will be available the weekend of Jan.6–8 at participating T-Mobile retail stores nationwide. For more information about T-Mobile's "New Year, New Phone Sale" and details about qualifying Unlimited Value plans, which include unlimited talk, text and data for a low price, visithttp://deals.t-mobile.com/new-phones?cm_mmc_o=lBgbzkFwpbzCjCzczywEwllCjC5ywllywkwzlwCjCwEpButBkbpzYwMwEfnivv.
1 Equipment installment plans: On approved credit and 0 percent APR. Down payment and unfinanced portion required at purchase. Remaining balance paid in 20 monthly installments. Total post-rebate price of each device equals down payment amount plus monthly payment amount times 20.
2 Devices must be supported with the following data requirements: voice phones: 200 MB data; most smartphones: 2 GB data; 42 Mbps devices (Amaze and Galaxy S II): 5 GB data.