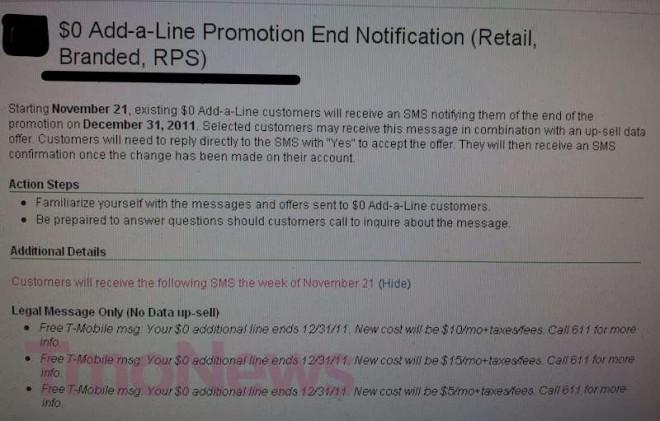 T-Mobile is set to begin SMS reminders to customers who took advantage of the $0 add-a-line promotion offered between September 8th and November 2nd of 2010. The promotional offer was extended toward add-a-lines on family rate plans that typically offered a $5 add-a-line on Even More and Even More Plus plans.
From our August 30th post of 2010:

The offer is available to both new and existing Even More and Even More Plus subscribers.  To take advantage of the promotion, existing customers must change to the new promotional $0 add-a-line family plan. Additionally, Even More subscribers will have to extend their contracts 2 additional years for each line on the account.  The offer is only valid on the 750 min/1500 min/3000 min family plans and 200 minute unlimited family plans.  Activation fees, early termination fees, and taxes still apply to this offer.  On January 1st 2012, the $0 promotional price will revert back to standard add-a-line pricing.  T-Mobile will notify customers via a free SMS message prior to the price change.
The time for that notification text message is almost upon us with T-Mobile offering customers one of 3 options based on their current rate plan option. Customers will need to reply directly to the message with "Yes" to accept the new add-a-line offer. They will receive confirmation via text message that the change has been made to their account.
Customers will start receiving the text message add-a-line offer on November 21st notifying them of the December 31st promotion conclusion.