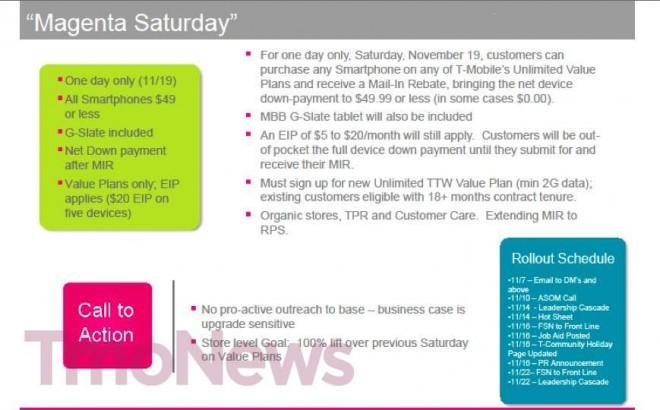 Update: We've updated this post to reflect T-Mobile's official announcement of the sale.
Back in late October we got wind of T-Mobile's next "All Hands" sale and after that details were scant, until today. Thanks to some ninja tipsters we've got a full look at what to text come this Saturday.
"For one day only, Saturday, November 19th, customers can purchase any smartphone on any of T-Mobile's Unlimited Value Plans and receive a Mail-In Rebate, bringing the net device down-payment to $49.99 or less (in some cases $0.00)."
An Equipment installment plan of $5 to $20 per month will still apply
Customers will pay full device down payment until they submit and receive mail-in rebate
Must sign up for new Unlimited Value Talk, Text, Web Value Plan (2GB minimum)
Existing customers eligible within 18+ months of contract tenure
T-Mobile G-Slate Tablet will also be included
No other mobile broadband or tablets included in promotion
Promotion will kick off Black Friday shopping period with T-Mobile's most aggressive offer
All Smartphones at $49 or less down payment
Stores receiving enough inventory to last through sale and Black Friday, additional inventory on "high priority accessory items for key devices" as well
T-Mobile is said to be preparing a large TV, Radio, Print and Digital ad campaign to help promote this weekends promotion. Beginning tomorrow, T-Mobile's retail stores will begin receiving their own merchandising info and displays. We hope that some of you find this offer very attractive and take advantage of the special promotion. Of course, after Saturday our attention turns to Black Friday and what T-Mobile has in store.