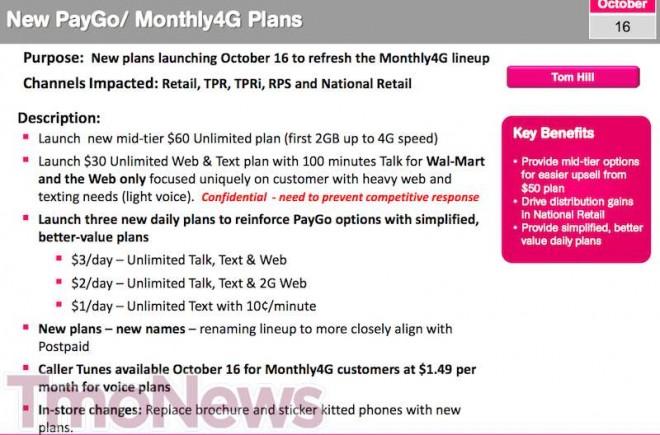 As T-Mobile watches the uncertainty surrounding their AT&T takeover deal, the company is pushing hard to win no-contract customers, perhaps indicating what the company strategy could look like if the AT&T bid fails. While the company line is to focus all its energy on ensuring the AT&T deal comes to pass, Deutsche Telekom is working with independent T-Mobile retailers to provide extra incentives to sell the newer, cheaper prepaid services.
T-Mobile is fighting a tough battle for the more lucrative postpaid customers against A&T and Verizon especially with customers hesitating to either resign with T-Mobile or join them altogether amid an uncertain future. Given this uncertainty, T-Mobile's fight now begins to focus on prepaid carriers like MetroPCS, Leap, Cricket and Boost Mobile.
T-Mobile has introduced a new tiered compensation plan for dealers giving them a higher up-front payment to promote the $50 and $70 Monthly4G plans.
"In the past, we've not been very attentive to prepaid customers," said Todd Heiner, whose Salt Lake City company, Express Locations LLC, runs more than 80 T-Mobile stores in 10 states. But T-Mobile's new incentives are "really encouraging everyone to not let [a customer] walk out of a store before we've talked about Monthly 4G."
T-Mobile declined to speak to the Wall Street Journal but did confirm the launch of a new compensation structure for dealers regarding the new Monthly4G offerings. T-Mobile is also working with store owners to expand into 2012 amid concerns that the AT&T deal could take longer to receive approval than previously thought.
"I'm sensing a clear sense that, 'Hey, this is going to take a long time if it ever does get approved, and we better get 2012 planning done, because we may be independent for longer than we thought,'" said Todd Heiner, a T-Mobile dealer based in Salt Lake City.
Officially, T-Mobile says their prepaid expansion plans were in place months before the AT&T acquisition deal was announced. As T-Mobile has added 933,000 new prepaid customers since June 2010 in the same timeframe it has lost more than 1 million contract customers it's of little surprise that T-Mobile is shifting some of its focus.
T-Mobile's largest advantage over other prepaid competitors is the size and speed of their data network that has plenty of room to grow even as T-Mobile remains devoid of a next-generation high-speed network strategy.
"They are in the relatively fortunate position of having a high-quality data network that is relatively vacant," said Bernstein Research analyst Craig Moffett. "That gives them a lot of strategic maneuverability.
Bernstein analyst Moffett went on to further say that T-Mobile's new joint plan with Wal-Mart "reveals a great deal about how T-Mobile is likely to position itself in a post-AT&T world, assuming the deal is eventually scuttled…a clear focus on prepaid, with an emphasis on data, as that is where their competitive advantage lies."
T-Mobile's newly energized focus on prepaid is leaving the competition wondering how to respond as prepaid customers pay less than contract customers and can equally match the strain placed on the network.
"There's a great deal of debate right now internally about the sustainability of the promotions that T-Mobile does," said Sergio Garcia, senior director of business and product management for Leap Wireless, which runs the Cricket prepaid brand.
In response to T-Mobile's new tiered data plan, some T-Mobile retailers are reporting a rising trend in business in the prepaid market whereas contract customer business remains flat.
While the AT&T/T-Mobile deal remains at least a few months away from seeing a final decision, these prepaid moves perhaps give us a look at the future T-Mobile business model in a post-AT&T world. This isn't to say T-Mobile would lose focus on its contract customer base, but in a time when prepaid is a hugely growing portion of the wireless market, T-Mobile may be in the right place at the right time to grab a large chunk of it.