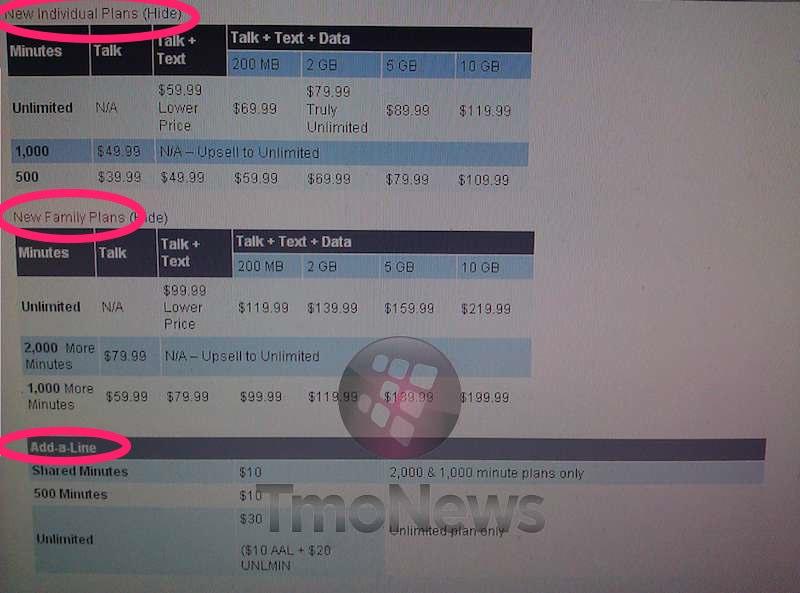 We've been eyeing May 22nd for a few days now expecting T-Mobile to change up their family plan lineup and as of yesterday evening we learn that day will also see them changing up their cellular phone data plans. We've since learned that T-Mobile will in fact being doing a revamp of their entire rate plan lineup including both new Individual and Family Plan rates. The new Individual plans will mirror the new family plans with three options: 500 minutes, 1000 minutes and unlimited.
500 minutes will go for $39.99 for just talk, $49.99 for Talk + Text all the way up to $109.99 depending on what kind of a data package a customer chooses.
For 1000 minutes the price goes up to $49.99 for voice minutes but no texting or data plans can be offered at this price point. Customers are bumped up to the Unlimited plan.
The Unlimited plan starts off at $59.99 for Talk + Text with no voice only plan.  The current $79.99 promotional plan for unlimited talk + text and 2GB of data remains an option. A customer can choose 200MB of data, 5GB of data or 10GB of data for $69.99, $89.99 and $119.99 respectively.
We're also hearing rumors that Even More Plus is truly done this time and will be renamed to either Even More Value or Even More Plus Contract. The EM+ offering will be altered a little to require a 2 year commitment with no discount on devices. Customers will be able to put down a deposit of some sort and add monthly payments based on the type of phone.
As a reminder Family Plan bundles add a lines will now be priced at $30 down from $40 on unlimited plans or $10 for 500 minutes up from 200 minutes. The new data plans we received word of last night will be added to the 3rd, 4th and 5th lines.