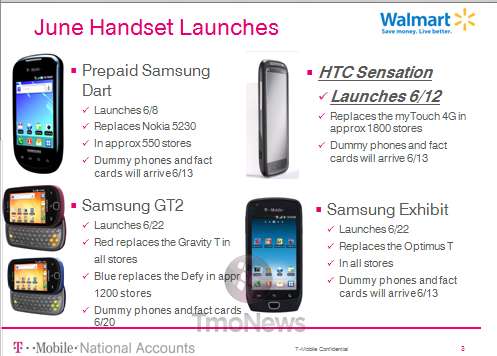 We've been hoping to nail down the Sensation 4G release date even in face of all the evidence pointing toward a June 8th release date and now these internal slides further reinforce a June 8th launch. Without any official word from the Magenta mothership we're left to take a look at more evidence courtesy of Walmart and The Shack both prepping for a June 12th launch. Along with Target's leaked June 12th launch this provides even more evidence that a June 8th date for T-Mobile is the real deal. Still, until we get official word we're left to put our faith in leaked docs and release dates that can change with a moments notice. Keep your fingers crossed!
The Shack is also providing some great incentives on the Sidekick 4G during a promotion between June 5th and June 11th with a $79.99 offer for new customers on family plans. You can also save by trading in a phone and saving an extra $50!
The Samsung Exhibit 4G and Samsung GT2 are set to drop on June 22nd at Walmart stores which sets them back two weeks after a rumored T-Mobile launch. We'll be keeping an eye on a T-Mobile launch on June 8th to see if these are on schedule or if the 6/22 Walmart launch is an indication of an overall delay.
P.S. Anyone else like the "Replaces the myTouch 4G in approx 1800 stores" statement?
P.P.S. For those asking in the comments a June 12th launch would be a big box retailer launch since it's a Sunday. June 8th would be T-Mobile directly if rumors hold true.
Thanks Spam!