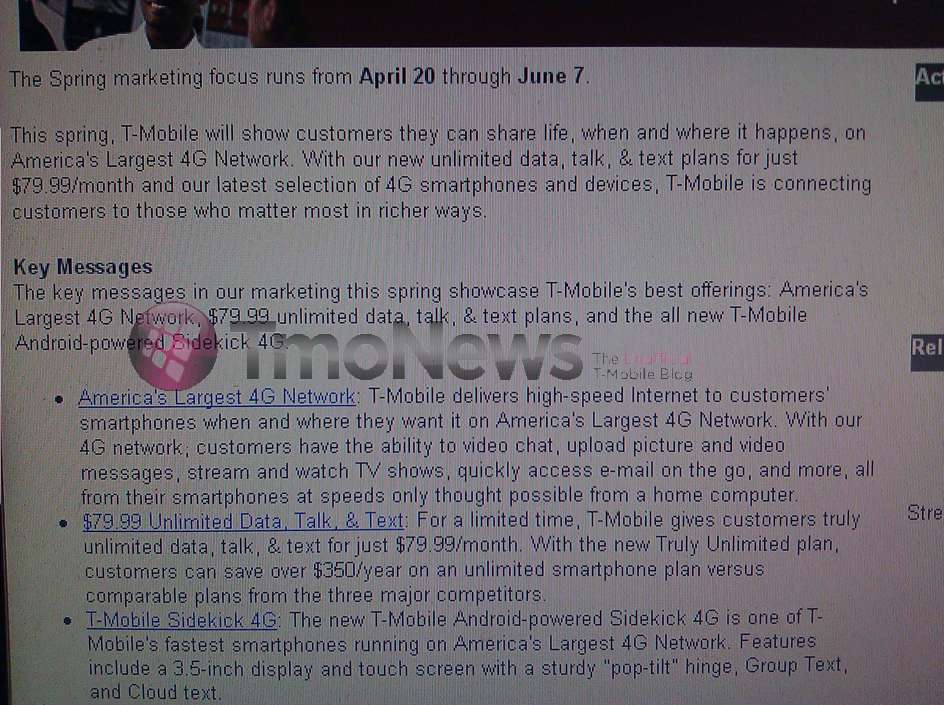 With the announcement of the HTC Sensation today coming exclusively to our beloved Magenta, T-Mobile showed they are still firing on all cylinders and that business as usual is in effect. With that in mind T-Mobile is prepping their Spring Marketing focus that runs from April 20th to June 7th with a  big focus on T-Mobile's "best offerings."
So what are those best offerings you ask?
Expect to hear about T-Mobile having America's largest 4G network!
The $79.99 Unlimited Talk, Text and "Data" plan beginning tomorrow will run through June 7th.
The T-Mobile Sidekick 4G will receive some television time with T-Mobile hoping to revitalize the Sidekick brand with its new Android overlords
Along with that you'll hear plenty about the rest of T-Mobile's smartphone lineup with lots of focus on the 4G "superphones."
Tablets, those slate devices that are all the rage these devices will play a part in T-Mobile's Spring marketing focus.
With the introduction of the T-Mobile's first 4G Mobile Hotspot tomorrow along with the Rocket 3.0, T-Mobile's first HSPA+ 42 device there will be lots to talk about on the mobile broadband front.
Anyone who has counted T-Mobile out of the game should understand that until any deal with AT&T closes, they are (as we've tried to remind you before) two separate companies. Therefore they must still market and compete and work toward boosting their customer count. Of course before AT&T works to finalize any such merger, they should make some in house moves to stop surveys like this from happening.