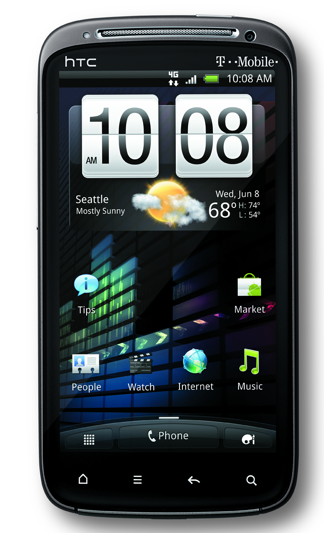 Boom, here's the best T-Mobile news we've heard in quite some time as they formally announce the exclusive arrival of the HTC Sensation this summer. Better known to most of us as the HTC Pyramid the Sensation received its official unveiling courtesy of HTC this morning at a special event held in London.
The specs are right in line with rumors that began back in early February with a 1.2 Ghz dual-core processor, 4.3″ qHD screen (540×960 pixels), full HD video in 1080p resolution, 8 megapixel camera and it's all running on T-Mobile's 4G network.
Along with the above specs the Sensation will also bring about a new HTC Sense experience that has a customizable active lockscreen transforming the lockscreen into a "real-time" windows displaying your important content. Along with sharper graphics, vibrant animations and new widgets HTC Sense will be better than ever.
There you have it, the Sensation comes this summer. Sensational!
Full Press Release:
HTC today announced its next T-Mobile exclusive phone, the HTC Sensation 4G. Coming this Summer, the HTC Sensation 4G will be T-Mobile's most powerful handset.
You don't like to wait forever for content to load and now you don't have to. With a 1.2 Ghz dual core Snapdragon 2 processor running on America's Largest 4G Network, the HTC Sensation 4G delivers all the entertainment you can handle.  Web pages delivered in the snap of a finger.  Watch videos now, not in five minutes.  Video games outside in the sun?  No problem with T-Mobile's largest, most high resolution screen, a 4.3" qHD touch screen (540×960 pixels).
HTC Innovation
HTC devices have become synonymous with innovation. The HTC Sensation 4G builds upon that reputation with the introduction of a new version of HTC Sense, technology that enhances the user experience, and a new premium design.
HTC Sense
The latest HTC Sense experience boasts a host of new features and enhancements, helping people to have more fun and get more done. New experiences include:
A customizable active lockscreen experience that transforms the lockscreen into a real-time window to the most important information and content.  Social updates, photos, weather or stock updates can be viewed by simply waking up the display.
Sharper graphics, vibrant animations and new widgets make HTC Sense look better than ever.
A more cinematic and immersive weather experience with stunning imagery and audible weather effects.
HTC Sense also makes it easy to have fun by enabling people to capture and share special moments. The HTC Sensation 4G's 8-megapixel camera doesn't just shoot gorgeous photos but, with the new instant capture feature, let's people capture the moments they want without worrying about missing or keeping up with the action. The HTC Sensation 4G also shoots full HD video in 1080p resolution, with full stereo sound, at up to 30 frames a second, giving the user smooth video that is better than many other phones.  With the new Video Trimmer tool, people can crop their clips to the perfect size for easy sharing with friends and family.
Premium Design and Materials
Tapping into HTC's trademark design, the HTC Sensation 4G's premium look and feel is enhanced by its rounded edges, aluminum unibody construction and the touch screen surface protected by a contoured screen that feels more natural as a finger is glided across it. The 4.3-inch qHD display delivers high-resolution widescreen viewing and gives the HTC Sensation 4G slender proportions that feel natural in a person's hand.
Keep an eye out for additional information about the HTC Sensation 4G to be announced over the coming months.