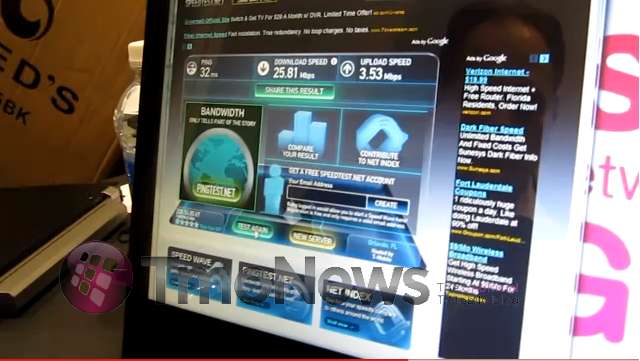 T-Mobile isn't ready to secede the speed wars to Verizon just yet with a first real world look at their recently announced HSPA+ 42 network in Las Vegas, New York and Orlando. So how does T-Mobile's 4G HSPA+ 42 network work in the real world? Fast, VERY fast. As you can see in the image above we were hitting download speeds around 24 – 25 Mbps and uploads speeds from around to 2 – 4 Mbps mark.
Obviously Verizon's LTE network is the speed leader right now and they certainly have a head start in the marketplace. More to the point they already have a line up of devices on the way with the HTC Thunderbolt already available. However, none of this takes away from the fact that T-Mobile's real world speeds are extremely competitive to what Verizon is offering.
T-Mobile made it clear to us they would have handsets out this year that are capable of running at the speeds we see in the Rocket 3.0. With the knowledge that many European networks are going to release similar network enhancements this year we can hope that quite a few of those handsets might make their way over to the US along with T-Mobile frequencies.
What remains to be seen is how a finalized merger with AT&T would affect things. T-Mobile is MUCH more lenient with data caps whereas AT&T decides to pretty much provide you with the minimum amount of data a power user really needs. In that respect, we hope that AT&T will adopt some of the T-Mobile practices which makes them our favorite carrier.