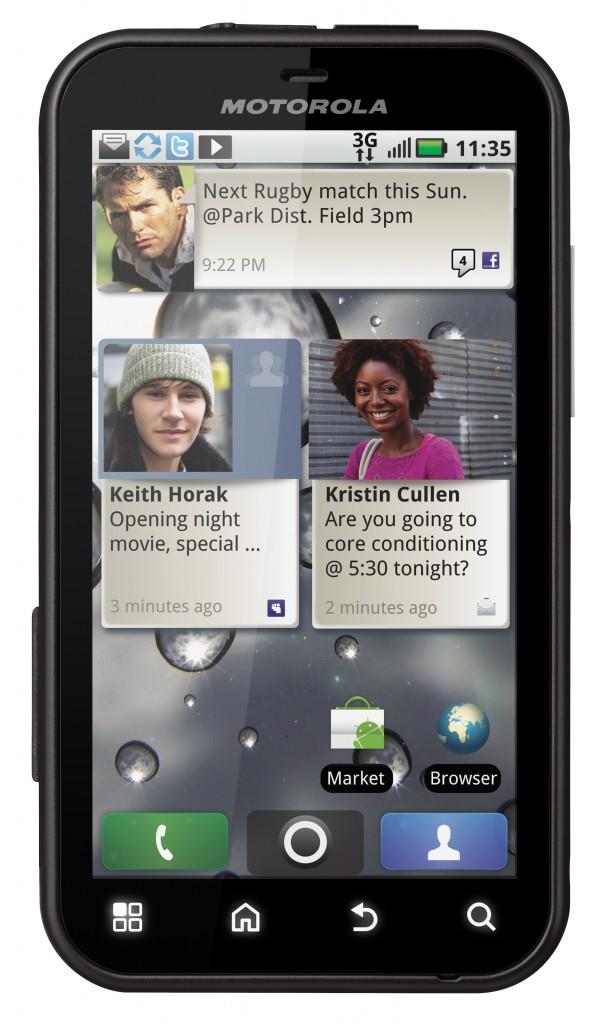 I have to be honest and say I didn't see this coming at all, a T-Mobile and Motorola announcement on the Oprah Winfrey show? Definitely wasn't considering that for a launch platform but hey, it's actually a good-looking phone. With a 3.7-inch scratch-resistant screen, water resistant and dust proof, the Defy will protect your phone against anything life can throw at it, within reason of course! We had a pretty good idea this rugged bad boy was coming back in mid-August as the Motorola Jordan. That just leaves the Motorola "Begonia" unaccounted for and we're betting it might be one of those trademarked names we reported on a while back, perhaps a Cliq 2 in the future
Full press release and a bunch of pictures follow!
Motorola Debuts DEFY™ on the Farewell Season Premiere of "The Oprah Winfrey Show"
Exclusively for T-Mobile USA, Motorola DEFY is Equipped to Withstand All That Life Throws Your Way
September 13, 2010
LIBERTYVILLE, Ill. — September 13, 2010 — Motorola, Inc. (NYSE: MOT) unveiled the Motorola DEFY™ enhanced with MOTOBLUR™ on today's 25th season premiere of "The Oprah Winfrey Show." Slim and pocket-able, this smartphone powered by Android™, which is planned for exclusive U.S. availability to customers of T-Mobile USA, comes equipped with a 3.7-inch high-resolution and scratch-resistant touch screen display that provides edge-to-edge views of your favorite websites, photos and videos.
"DEFY is designed to handle everything that life throws your way," said Bill Ogle chief marketing officer, Motorola Mobility, Inc. "With all the features consumers expect in a smartphone, DEFY packs Web browsing, entertainment and messaging capabilities as well as an exterior design that can withstand the stresses of everyday life."
Motorola DEFY is scratch and water resistant as well as dust proof, protecting you from life's little challenges such as a sudden rain shower to a drop in the sand. Pre-installed on the DEFY, CrystalTalk® PLUS vanquishes noisy environments with two microphones that intelligently filter out background noise and amplify your voice so you don't have to shout.
"DEFY is essentially a connection hub wrapped in a layer of protection," said Paul Cole, vice president, product management, T-Mobile USA. "The unique and innovative form-factor of the DEFY provides you with the confidence to truly take your phone anywhere."
An Adobe® Flash® Lite®-enabled Web browser and 3.7-inch WVGA screen allow you to view more of the Web than standard browsers. Choose from thousands of applications, widgets and games on Android Market™ and enjoy access to Google™ services including Google Search™, Google Maps™ and Gmail™.
With a durable form-factor and 5-megapixel camera featuring a flash, digital zoom and auto focus, the Motorola DEFY is the trusty companion to capture memories at the next family reunion or vacation. Part of the Digital Living Network Alliance (DLNA), DEFY enables you to stream, store and share content with compatible devices around the home such as HDTVs, game consoles and PCs. Also, the Connected Music Player provides the option to display lyrics to your songs and enables you to discover, buy and download music, right from your phone.
Availability
Motorola DEFY with MOTOBLUR is expected to be available exclusively to T-Mobile USA customers in time for the holidays. For more information on Motorola DEFY with MOTOBLUR, please visit here.  To view images please visit here.
About Motorola
Motorola is known around the world for innovation in communications and is focused on advancing the way the world connects. From broadband communications infrastructure, enterprise mobility and public safety solutions to mobile and wireline digital communication devices that provide compelling experiences, Motorola is leading the next wave of innovations that enable people, enterprises and governments to be more connected and more mobile. Motorola (NYSE: MOT) had sales of US $22 billion in 2009. For more information, please visit www.motorola.com.