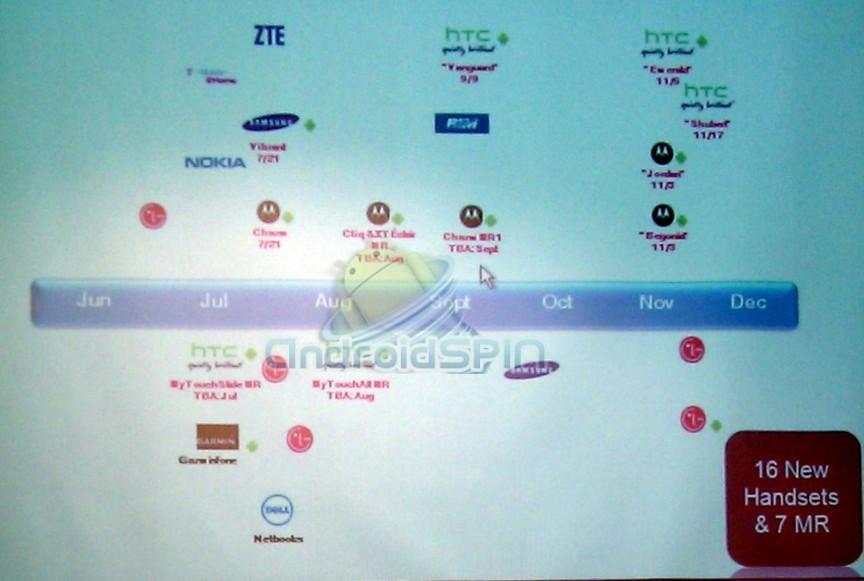 The guys over at Androidspin claim to have been sent, via one of their sources, a leaked T-Mobile roadmap showing off 16 devices coming the Magenta way. Let me just say right now, I don't know if this is real, it most certainly doesn't look like the roadmaps I have seen in the past…that's not to say it's fake, just saying I'm suspicious of its validity. Which means, for those of you who will inevitably manage to skip over this sentence in the post, these dates, phones, codenames and pretty much everything seen above is subject to change and/or confirmation. I will say this, it's been made very clear to me that LG is in the T-Mobile game this year and will showcase a number of devices by years end and this roadmap shows only two devices coming at years end, so I'm skeptical at the moment.
Let me tell you what I know is coming, I was planning on doing a separate post regarding this but I'll tell you what we believe is coming up. The HTC Vanguard is scheduled for sometime in September, so that lines up well. As well as the single BlackBerry launch scheduled for this year and we hear this one is "worth the wait." Whatever that means, I have no idea but it better be something that gives BlackBerry the swift kick in the rear it so desperately needs. The true successor to the G1 is scheduled for launch before November, aka G1 V2 for those of you who remember back that far that was the originally rumored name. Well we don't know if that's the case anymore but we hear that the phone itself does exist and will be releasing sometime on, or before, November. In fact, let's go a little further and say that the HTC Vision and the G1 V2 might indeed be the same device
Along with the phone release dates, the myTouch 3G, Cliq and Cliq XT look to be getting their Éclair updates sometime in August. That's just under a month away but long enough to likely not calm the masses already screaming at Motorola for the lack of information regarding future updates.
The HTC Emerald, which conjures up ideas of our first leaked Project Emerald story is slated for November 5th. Also slated for a November launch is the Motorola Jordan and the Begonia and then HTC has the Schubert planned for November 17th.
So far, we can verify some of this sounds pretty accurate but the image itself just looks far off from the typical roadmap. We'll chalk this up firmly in the rumored but hopeful category for now and work our own sources to confirm.