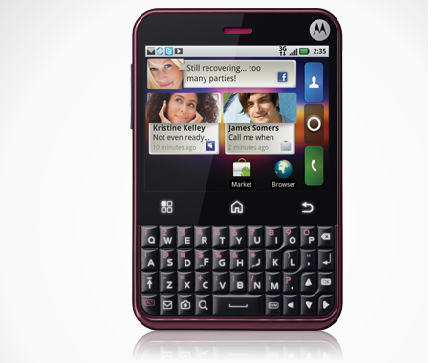 Well, it hasn't been long since the Motorola Charm rumors first started to pick up speed.  Since then, it seems like we have learned more and more every day.  Now, the entry level Android phone has been officially announced by Motorola.  It packs everything that we told you about before (you know, the 2.8 inch screen, backtrack navigation, Android 2.1 with MOTOBLUR and so on) but it also has a few other tricks up its sleeve.  The Charm will also have the standard Android Google Suite, Crystal Talk Technology (the whole two microphone deal), a 3 MP camera with Kodak Perfect Touch technology and full Adobe Flash enabled web browsing (shocker!).  Still no word on the official price, but that can't be too far off.  Leave your thoughts in the comments!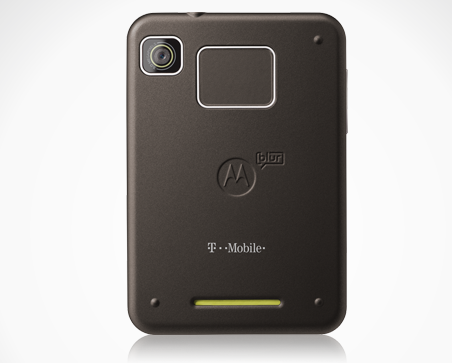 Motorola Announces its Newest Device with MOTOBLUR™: Motorola CHARM™

Exclusively for T-Mobile USA, Motorola CHARM packs smartphone features and social graces into a pocketable design with Android™ 2.1 and MOTOBLURTM enhancements

July 07, 2010




Libertyville, Ill. — July 7, 2010 —Motorola (NYSE: MOT) today announced the upcoming availability of Motorola CHARM™, a touch screen smartphone that packs a social networking punch with Android™ 2.1, MOTOBLURTM enhancements, a compact design and a BACKTRACK™ feature that makes screen navigation even more intuitive.

Motorola CHARM is expected to be available this summer exclusively in the U.S. for customers of T-Mobile USA, Inc.

"Motorola strives to provide an increased customizable user experience, which is enabled by our latest enhancements to MOTOBLUR and featured on the new Motorola CHARM," said Jean Pierre Le Cannellier, vice president, Americas Marketing, Motorola Mobile Devices. "Combine that with a compact design, easy handling and all the features you would expect from a smartphone, and we believe that CHARM with MOTOBLUR adds the social ability and workability consumers are looking for."

Motorola CHARM provides consumers all the features of a smartphone with the intuitive navigation of a 2.8 inch touch screen – all in a compact, pocketable design that makes messaging a snap using the combination of a full QWERTY keyboard and touch screen. The BACKTRACK navigation pad, located on the back of the smartphone directly behind the home screen, is similar to a laptop touch panel and enables an unobstructed view of the Web, texts, e-mails and news feeds. Plus, with Android 2.1 and enhanced MOTOBLUR features, CHARM offers new customization and filtering options.

"Being social with friends and family comes naturally for T-Mobile customers, and we think mobilizing their social experiences should be effortless," said Saj Sahay, director of product management, T-Mobile USA. "With the new Motorola CHARM and enhancements to the Android and MOTOBLUR experience, we're bringing more social skills to our broad portfolio of Android-powered smartphones."

Motorola CHARM will be the first device in the U.S. to feature an enhanced version of MOTOBLUR built on Android 2.1, which syncs contacts, posts, messages, photos and much more in easy to manage streams — from sources such as Facebook®, MySpace, Twitter™, Gmail™, work and personal e-mail. MOTOBLUR now allows for even greater customization, providing users more options to follow who and what really matters.

MOTOBLUR filters can be selected from a single social networking account, contacts, group or messaging account so that users can select only the information they want to stream live to the Happenings and Messages widgets. Users can move and resize pre-loaded home screen widgets to personalize up to seven home screen panels for an even more custom experience.  Lastly, consumers can manage their phone's battery consumption by selecting different power modes to conserve battery.

Contacts in MOTOBLUR are automatically synced to the phone from personal and work e-mail and social network accounts. MOTOBLUR will continue to provide convenience and peace of mind, as lost devices can be located from a secure personal information portal and even remotely erased if necessary. In addition, one user name and password brings back contacts, messages and connectivity to previously configured networks and e-mail providers.

Last, but not least, Moto Phone Portal enables you to access and manage your phone's data from any browser through a USB or Wi-Fi connection. Edit content and view important phone information while at home or on-the-go. Leave pictures on a friend's PC, share a video at the local Internet café or share a presentation during an important business meeting.

Additional features on Motorola CHARM include:

Adobe® Flash® enabled Web browsing experience to view most of today's content-rich sites
Full suite of Google™ services including: Google Search™, Google Maps™, Gmail™ and access to thousands of apps on Android Market™
Pinch to zoom functionality and two-finger swipe to easily surf the Web and sort through photos

Capture sharp photos with a 3MP camera and KODAK PERFECT TOUCH technology for better, brighter pictures
One-touch social media uploads to Facebook®, MySpace, PicasaTM and PhotoBucket®
CrystalTalkTM PLUS for enhanced audio and call quality with a second microphone for increased voice quality while filtering out background noise
Corporate email pushed immediately to the device for instant inbox updates

Availability

Motorola CHARM with MOTOBLUR is expected to be available exclusively to T-Mobile USA customers this summer.  For more information on Motorola CHARM with MOTOBLUR, please visit here.  To view images please visit here.

#   #   #

Certain features, services and applications are network dependent and may not be available in all areas; additional terms, conditions and/or charges may apply. Contact your service provider for details. All features, functionality and other product specifications are subject to change without notice or obligation.

MOTOROLA and the Stylized M Logo are registered in the U.S. Patent and Trademark Office. The MOTOBLUR logo is a trademark of Motorola.

Android, Google, Google Search, Google Maps, Gmail, Android Market and Picasa, are trademarks of Google Inc. Facebook is a registered trademark of Facebook, Inc. Photobucket is a registered trademark of Photobucket.com, Inc.  All other product or service names are the property of their respective owners © 2010 Motorola, Inc. All rights reserved.


About Motorola
Motorola is known around the world for innovation in communications and is focused on advancing the way the world connects.  From broadband communications infrastructure, enterprise mobility and public safety solutions to high-definition video and mobile devices, Motorola is leading the next wave of innovations that enable people, enterprises and governments to be more connected and more mobile.  Motorola (NYSE: MOT) had sales of US $22 billion in 2009. For more information, please visit www.motorola.com.