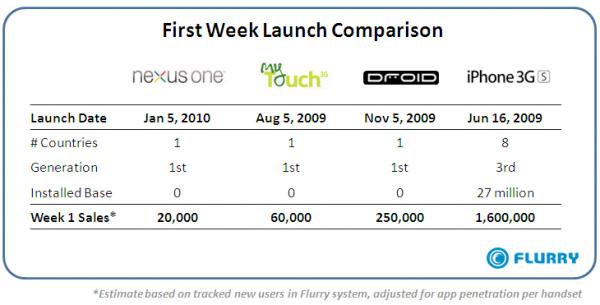 It's been roughly a week since Google and HTC revealed the Nexus One via press conference at their headquarters. Expectations were of course high for the Google handset, as is usually true for anything that is attached to the Google name. However, according to Mobile App Analytics over at Flurry, who are estimating (based on usage of the apps that it instruments) around 20,000 Nexus One handsets were sold in the first week of launch.  Looking above you will see the T-Mobile myTouch 3G, which launched all the way back in August of 2009, sold a total of 60,000 units during its first week. Making a strong first week showing was the Verizon Wireless Motorola Droid which sold a whopping 250,000 units the first week it launched. While the infamous Apple iPhone 3GS sold an incredible 1,600,000 units during the first week it launched.
To be completely honest, I believe that due to Google imposing some tight requirements in order to get the handset subsidized, the Nexus One didn't appeal to as many users. Even though the retail price of the handset is lower than the subsidized price in the long run, many consumers simply do not want to pay $529.99 up front. On top of that, significant confusion over the initial rate plan offering might have been a detractor to buyers. While that matter has been settled amongst the internet savvy, those looking to buy online may not be aware of how one can change plans after receiving the device.  Consider for a moment the unhappy customers, those existing T-Mobile customers who discovered they would not receive any discount whatsoever on the Nexus One. Or those customers who are upgrade eligible and still find themselves in a position that requires more than the anticipated $179.99 pricing. Say what you want about the launch, it seems as though there was plenty of hiccups this time around, things that could have easily been prevented that would have allowed for higher first week sales. A lot is riding on how Google handles the 3G issues as well as various customer issues that has brought about significant talk about Google's clear direction regarding customer service. For a company that is so entrenched in our lives, it's certainly not easy to talk to them.  Then again, that's just my $0.02.
What do you think? Leave your thoughts in the comments!