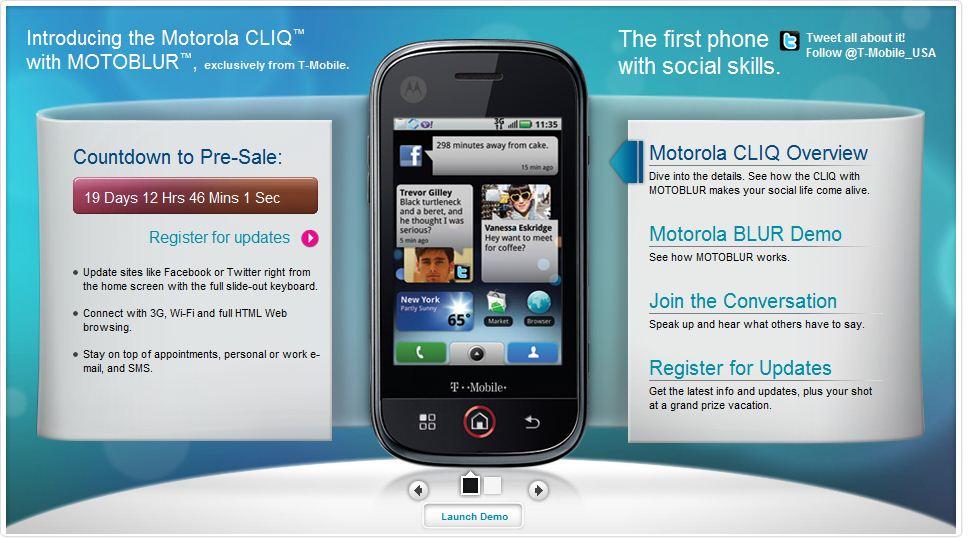 Well, we called the pre-order date for the Cliq almost right after the announcement. As the above picture shows, our info was right on the money as the countdown has begun. This settles the release date chaos quite nicely, and  we can all be thankful knowing exactly how long we have to save our pennies.  Courtesy of T-mobile themselves, images are leaking direct from the T-mobile homepage to the Cliq pre-order. Coincidentally, this comes right on the heels of the Cliq sales box unveiling–which, for some reason, sends chills down the spines of tech bloggers everywhere.  While the Cliq may or may not be your cup of tea, a lot is riding on the launch for Motorola and T-mobile alike. Motorola needs a win, that goes without question. At the same time, T-mobile needs a device that can measure up to the Sprint launch of the HTC Hero to keep attention on the T-mobile-Android partnership–something that has been exclusive up until this point.
The Android battle is about to begin and thankfully for us as customers, it's a no lose scenario.
One more pic after the jump!