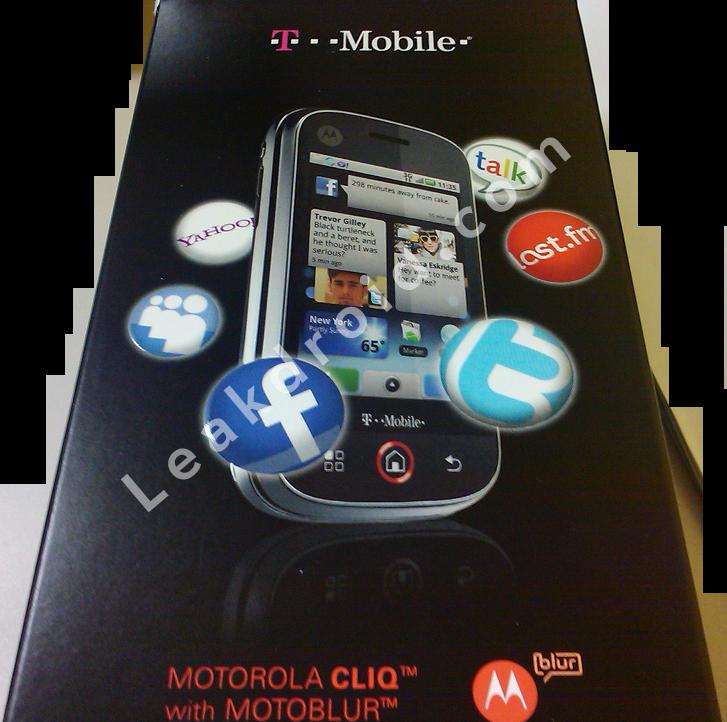 While we continue to patiently wait until the expected October 19th preorder date for the Cliq, our friends over at LeakDroid have got their hands on the Motorola Cliq box. And may I say, this box is very nicely designed. The box art isn't the only thing LeakDroid recieved. Here is some extra information about the goodies the Cliq offers:
Box comes with headphones/mic to plug into the headphone jack. no case. the box has a strange way of opening it.. some things about motoblur i havent read about that we learned is that motoblur includes a "tracking" feature similar to the iphone so if you lose your phone you can track it online by gps.. either by current location or last known gps location. you can remote wipe the device.. if you remote wipe the device it "stores" the information on the phone but basically bricks it.. if you log back into your original device.. it brings your info back.. or into another one.. now the way it was explained is that your pictures/contacts are stored.. similar to the way danger did with the sidekick.. not sure if thats 100% though. no google apps. uses Telenav as a 'pay per month' turn by turn navigation. internet feature is required. it will use same feature as G1 and will have visual voicemail. honestly the device is incredible.. they are marketing it internal as a way to get Motorola back in the good graces of the customer. no release date was given.. but there will be a preorder.. which i think was shown on a brochure someplace?
More Cliq Box pics after the break! Don't forget to sound off in the comments with your excitement!