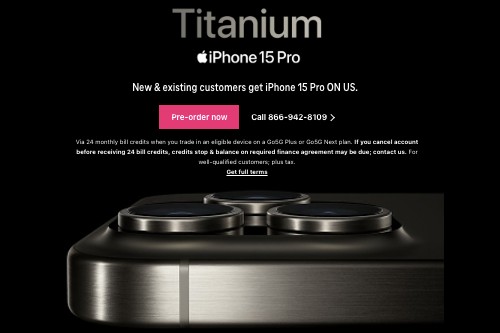 A few days ago, T-Mobile unveiled the new iPhone 15 lineup and its promotions that go along with it. Today, pre-orders for these devices have gone live. And in line with this, the Un-carrier has added a free iPhone 15 Pro on Us offer for both new and existing customers with an eligible trade-in.
T-Mobile is also giving its customers a chance to upgrade to a new iPhone every year via Go5G Next. Customers on Go5G Plus, on the other hand, can upgrade to a new device every two years.
This is a welcomed change for those who are fond of regularly upgrading to a new iPhone. Usually, carriers lock their customers under a three-year device contract. But with these two plan options offered by T-Mobile, customers can upgrade in as little as a year.
To learn more about T-Mo's Go5G plan, visit this page.
Source: T-Mobile