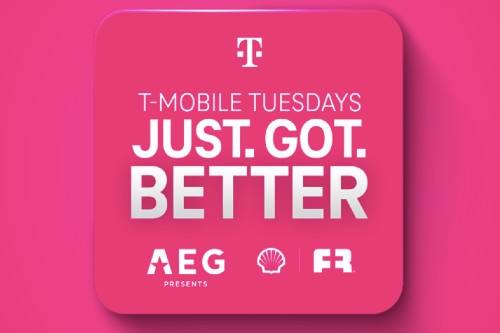 T-Mobile is rolling out a new reward for its customers. As unveiled by the Un-carrier today, it has more travel and entertainment deals via T-Mobile Tuesdays.
Starting today, July 25th, both T-Mobile and Metro by T-Mobile customers can enjoy the following:
T-Mobile Concert Perks
T-Mobile and AEG Presents have partnered to give exclusive perks to T-Mobile and Metro by T-Mobile customers. Through this partnership, customers can get 25% off on concert tickets in almost 5,000 concerts.
There's also a Quick Pass perk that customers can add for free with their ticket purchase so they can bypass the general admission entry.
Discounted Fuel from Shell
T-Mobile and Metro by T-Mobile customers can also enjoy 15 cents off per gallon of fuel, up to 20 gallons every week. The discount is honored in over 12,000 Shell stations until the end of the year.
Club Magenta Pass
Lastly, T-Mobile Tuesdays gives customers VIP treatment at Club Magenta. Some of the hottest events of the year that are slated to take place at this venue include Stagecoach, Lollapalooza, and the FORMULA 1 HEINEKEN SILVER LAS VEGAS GRAND PRIX.
Through this Club Magenta pass, customers have access to:
T-Mobile customer entrance lanes
Immersive lounge with a private bar
Special perks like lawn chairs, food and beverage, glam stations, giveaways, and more.
If you would like to learn more about today's announcement, you can visit this page.
Source: T-Mobile