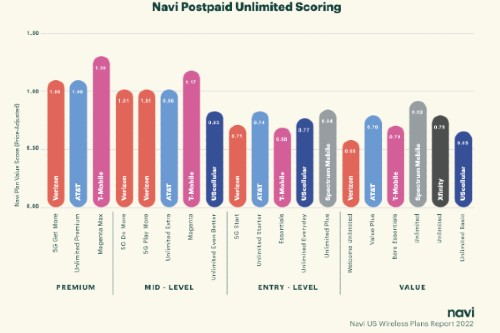 Earlier today, Navi released its 2022 US Wireless Plan Report where it revealed the best wireless phone and plan deals for consumers. Through this report, the available unlimited postpaid phone plans in the country are evaluated and ranked to help customers pick out a plan that best suits their needs.
Navi has come up with its own Plan Score by making use of a methodology it developed for its own use. Throughout the period of March to June 2022, they analyzed a total of 19 postpaid unlimited plans offered by the six largest carriers on six various features. And here are the results derived from the testing:
T-Mobile's Magenta and Magenta Max plans outscore other equivalents after adjusting for price
Spectrum and Xfinity Mobile are competitive plans but require subscription to home internet services or living in an area where service is offered
Navi also found that the best way for carriers to differentiate themselves from their rivals is to add streaming services (like Netflix or Disney+) and hotspot connectivity.
If you would like to read more about their findings, you can visit this page.
Source: PRNewswire