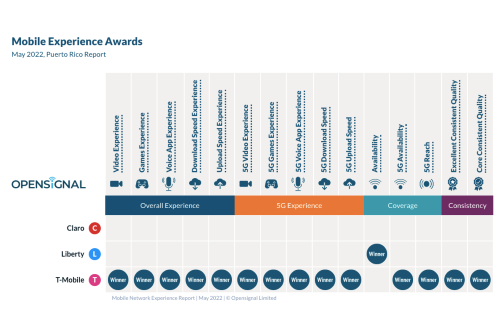 T-Mobile has once again earned the top spot for the 5G mobile network experience of its customers in Puerto Rico.
The results of Opensignal's latest Puerto Rico Mobile Network Experience reveal that T-Mobile is the leader for both performance and consumer experience. As a whole, the Un-carrier took the top spot in 14 out of 15 categories in the study. It also won the Overall and 5G Experience categories.
"Our 5G network is delivering a great customer experience and powerful network performance Our early bet and two-year lead in mid band 5G continues to pay off giving customers the fastest, most available 5G in the country and in Puerto Rico," said Neville Ray, President of Technology at T-Mobile. "The Puerto Rico market is hugely important for T-Mobile and this leading network experience will continue to get even better as we continue our 5G and network investment into the coming years."
The only category that T-Mobile didn't rank the highest in the study is availability, which went to its local competitor, Liberty.
You can read the full report here.
Source: T-Mobile