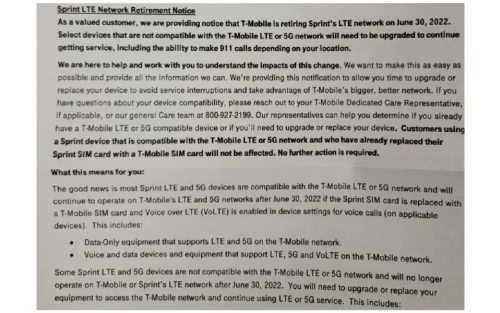 Ever since T-Mobile acquired Sprint last year, the company has been vocal about its plans to shut down Sprint's CDMA signal on January 1, 2022. But many seem to have forgotten about Sprint's LTE network. 
As revealed by a newly leaked document, it's possible that T-Mobile could be shutting down Sprint's LTE network on June 30, 2022. 
Although T-Mobile has not yet confirmed this target date, many are already talking about what could potentially happen once the shut down takes place. For one thing, a large number of legacy Sprint customers could be left without service. And the only logical thing to do at this point is to switch to a newer device that is compatible with T-Mo's LTE or 5G network. 
The good news is that there are plenty of affordable devices being released these days. So if you're one of the customers that will be affected by the network shutdown next year, you can already start looking into changing your device soon. 
Source: 1