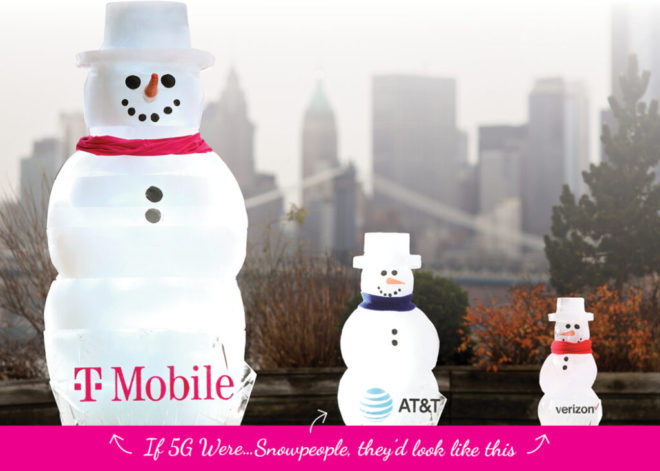 Once again, T-Mobile has taken a jab at its competitors by illustrating its larger reach for its nationwide 5G network.
In a new blog post, T-Mo shared that its nationwide 5G network covers 270 million individuals across 1.4 million square miles. The Un-carrier also illustrated this comparison with a photo of three snowpeople with varying heights. 
T-Mobile shared that while it could very much depict the number in a coverage map, they decided to go with a series called "If 5G Were…" The series made use of physical comparisons to demonstrate the difference among the 5G wireless networks in the country. 
In the spirit of the holiday season, T-Mobile decided to use snowpeople for this first comparison. They put three snowpeople on the Brooklyn shoreline with varying heights: T-Mobile's snowperson had a height of over 6 feet. AT&T's snowperson had under half of T-Mobile's size while Verizon's snowperson was a quarter of the height of T-Mobile's snowperson. 
T-Mobile also invited its customers to share in on the fun by making their own 5G comparison. If you have one, you can share it with T-Mobile using the #If5GWere hashtag. 
Source: T-Mobile