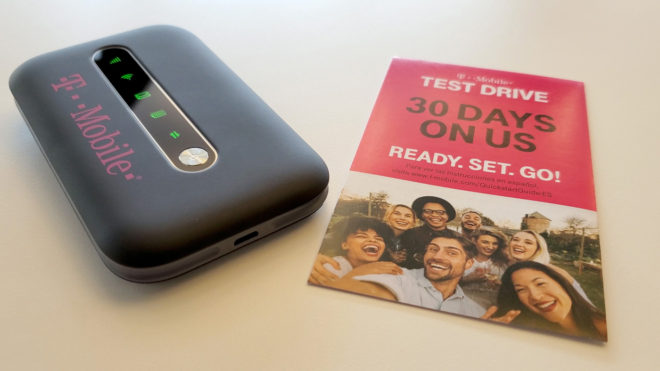 It feels like it's been a little while since T-Mobile made a new Un-carrier announcement, but that's exactly what it's giving us today.
T-Mobile is amping up its Un-carrier 5.0 move with an updated Test Drive. Starting today, anyone on a different carrier can sign up to receive a free Coolpad Surf mobile hotspot that they can to try out T-Mobile's network for up to 30 days or 30GB of data usage. Once you're done , just return the Coolpad Surf to a T-Mobile store, hand it off to a friend, or recycle it.
If you're interested in taking a T-Mobile Test Drive, just go to this page and fill out your name, phone number, and email to get started.
The Coolpad Surf is a small mobile hotspot device that connects to T-Mobile's network and spits out a Wi-Fi signal that can connect up to 15 devices simultaneously. It connects to LTE bands 2, 4, 12, 66, and 71, which means you can even try T-Mobile's 600MHz (LTE band 71) coverage that the carrier talks up as reaching twice as far and penetrating buildings four times as well as mid-band signals.
With its previous Test Drive, anyone interested in trying T-Mobile got a free iPhone 5s to use for seven days. This amped up version of T-Mobile's Test Drive gives you much longer to try out T-Mo's network, which is great news because it gives you lots of time to try out the network at home, work, and anywhere else you might regularly go. One downside of the new move, though, is that a hotspot won't let you try out the voice calling performance on T-Mobile. Lots of folks out there probably make fewer phone calls than when the first Test Drive launched, but it's still something to keep in mind when you're evaluating T-Mo's network.
What do you think of this amped up T-Mobile Test Drive? If you're not already a T-Mo customer, are you going to sign up for it?
Source: T-Mobile