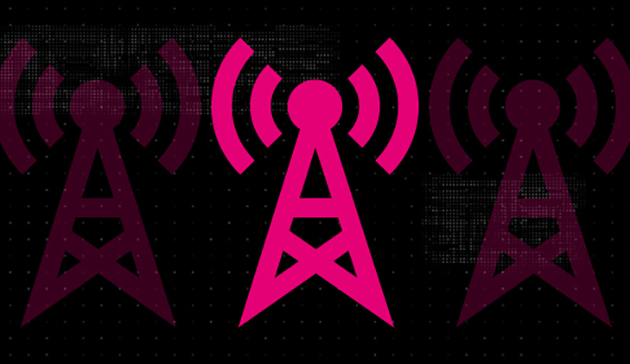 One week after T-Mobile announced a new round of low-band LTE upgrades, the carrier has confirmed that it's made some mid-band LTE upgrades, too.
T-Mobile has performed mid-band LTE upgrades on cell sites across the country in the last two weeks. The upgrades include AWS and PCS spectrum, and you'll find 'em in cities like Portland, OR; Des Moines, IA; Boca Raton, FL; Seaford, DE; Houston, TX; and Zelienople, PA.
The full list of upgraded cities and towns is below. Let us know if your town is included!
Smiths Station, AL
Payson, AZ
Phoenix, AZ
Scottsdale, AZ
Tempe, AZ
Yuma, AZ
Little Rock, AR
Coronado, CA
Cupertino, CA
Fontana, CA
Los Angeles, CA
Merced, CA
Moreno Valley, CA
Northridge, CA
Paramount, CA
Roseville, CA
Sacramento, CA
San Francisco, CA
San Jose, CA
San Leandro, CA
Sherman Oaks, CA
Spring Valley, CA
Studio City, CA
Sunnyvale, CA
Tehachapi, CA
Torrance, CA
Tustin, CA
Vista, CA
West Hollywood, CA
Divide, CO
Greeley, CO
Loveland, CO
Salida, CO
Dayville, CT
Seaford, DE
Washington, DC
Boca Raton, FL
Ellenton, FL
Key Largo, F L
Macclenny, FL
Ocala, FL
Seffner, FL
West Palm Beach, FL
Austell, GA
Cartersville, GA
Dacula, GA
Flowery Beach, GA
Lilburn, GA
Marietta, GA
Peachtree Corners, GA
Powder Springs, GA
Suwanee, GA
Honolulu, HI
Jerome, ID
Berwyn, IL
Orland Park, IL
Saint Charles, IL
Indianapolis, IN
New Harmny, IN
Ames, IA
Dawson, IA
Des Moines, IA
Gilmore City, IA
Granger, IA
Hinton, IA
Ireton, IA
Montrose, IA
North English, IA
Zearing, IA
Shreveport, LA
West Monroe, LA
Clinton, MD
Ellicott City, MD
Gaithersburg, MD
Laurel, MD
Olney, MD
Poolesville, MD
Whaleyville, MD
Lowell, MA
Plymouth, MA
Gaylord, MI
Kalkaska, MI
Petoskey, MI
Rochester, MN
Hattiesburg, MS
Oran, MO
Poplar Bluff, MO
Las Vegas, NV
Luning, NV
North Las Vegas, NV
Reno, NV
Bradley Beach, NJ
Clifton, NJ
Dunellen, NJ
East Orange, NJ
Edison, NJ
Fanwood, NJ
Fort Monmouth, NJ
Jackson, NJ
Livingston, NJ
Marmora, NJ
Mount Holly, NJ
Old Bridge, NJ
Short Hills, NJ
Toms River, NJ
West Orange, NJ
Artesia, NM
Brooklyn, NY
Buffalo, NY
Chenango Forks, NY
Elma, NY
Erieville, NY
Flushing, NY
Lindenhurst, NY
New York, NY
Rego Park, NY
Sherman, NY
Staten Island, NY
Utica, NY
Yonkers, NY
Charlotte, NC
Greenville, NC
Haw River, NC
Knightdale, NC
Morrisville, NC
Raleigh, NC
Rocky Mount, NC
Tarboro, NC
Caney, OK
Pendleton, OR
Portland, OR
Saint Paul, OR
Adamstown, PA
Canadensis, PA
Calisle, PA
Coraopolis, PA
Harrisburg, PA
Johnsonburg, PA
New Cumberland, PA
New Oxford, PA
Peach Bottom, PA
Pleasant Mount, PA
Shippensburg, PA
Spartansburg, PA
Zelienople, PA
Aguadilla, PR
Bayamon, PR
Caguas, PR
Catano, PR
Humacao, PR
Mayaguez, PR
Penuelas, PR
Ponce, PR
San Juan, PR
Vieques, PR
Greenville, SC
Taylors, SC
Winner, SD
Dallas, TX
Fort Worth, TX
Houston, TX
Hunt, TX
Katy, TX
Killeen, TX
Lubbock, TX
Memphis, TX
Mesquite, TX
Midland, TX
Odessa, TX
Paris, TX
San Antonio, TX
Seadrift, TX
Terrell, TX
Clearfield, UT
Provo, UT
Salt Lake City, UT
Sandy, UT
Boones Mill, VA
Chatham, VA
Hampton, VA
Portsmouth, VA
Winchester, VA
Woodbridge, VA
Bellingham, WA
Bickleton, WA
Kirkland, WA
Ridgefield, WA
Sedro Woolley, WA
Spokane, WA
Baker, WV
Newton, WV
Racine, WV
Source: T-Mobile