Google is surprising us today with some more Pixel 4 news.
A new video and blog published by Google has revealed a few more features of the Pixel 4. The video is all about using the Pixel 4 without touching it, and at the start we can see a person unlocking the Pixel 4 using their face. Leaks have suggested that the Pixel 4 may not have a fingerprint reader, and now we know that Google is opting to use face unlock instead.
Another feature confirmed by this new video is Motion Sense. These gestures appear to let you control the Pixel 4 without touching it. In the video, we can see the person changing songs by swiping their hand in front of the display.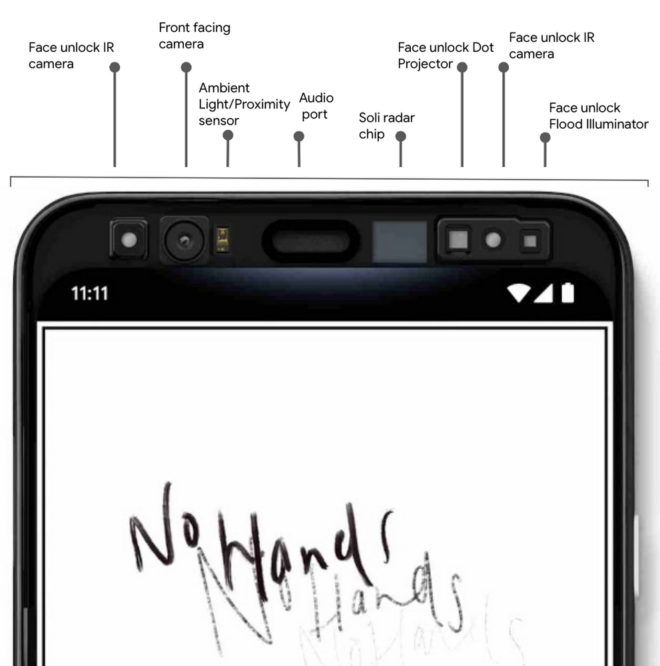 Both of these new features utilize Soli, a motion-sensing radar technology. Soli can turn on the Pixel 4's face unlock sensors as you reach for your phone, recognizing that you may want to unlock it, and then the face unlock sensors and algorithms will unlock your phone for you. With Motion Sense, Soli can sense small motions around the phone using software algorithms and a hardware sensor to let you use gestures to skip songs, snooze alarms, and silence phone calls.
We can also make out a couple of the Pixel 4's design details in Google's video and image. The Pixel 4 will have a top bezel to house all of those Soli sensors, and we can see a differently colored power button on the side of the device, like Google has done use on some previous Pixel phones.
One detail that Google still isn't sharing is the Pixel 4's launch date. The three previous Pixel phones have all been announced in early October, so that's the current best estimate for the Pixel 4, too. And now that T-Mobile is officially selling Pixel phones, it's certainly possible that the Pixel 4 will be available from T-Mobile whenever it does arrive.
Source: Google