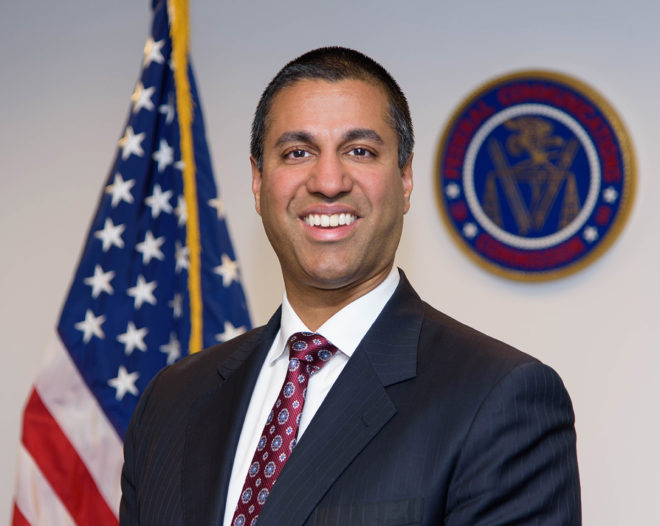 FCC Chairman Ajit Pai has once again voiced his support of T-Mobile and Sprint's merger.
Speaking to the New York State Wireless Association recently, Pai talked about 5G and how the FCC is working to accelerate its deployment in the U.S. One of the pillars of T-Mobile and Sprint's merger is how they plan to use their combined spectrum to deploy a nationwide 5G network, and Pai said during his remarks that "one of the most critical steps that the FCC can take is to approve the T-Mobile/Sprint transaction."
Pai went on to say that Sprint has lots of mid-band spectrum, but that "the company standing alone does not have the capacity to deploy 5G in this spectrum throughout large parts of rural America." The combined T-Mobile-Sprint will have the capacity to do that, Pai claimed, pointing to a T-Mo and Sprint commitment to deploy mid-band 5G to 88 percent of the U.S. population, including two-thirds of rural consumers. "We should seize the opportunity to provide 5G to rural America and close the digital divide," Pai said.
The FCC Chairmen went on to talk about the lawsuit filed by state attorneys general from 14 states and Washington D.C. that seeks to block the T-Mobile-Sprint merger, calling it "misguided" and saying that he hopes it fails. "And make no mistake about it, government officials trying to block this transaction are working to stop many upstate New Yorkers and other rural Americans from getting access to fast mobile broadband and all of the benefits that come with it," Pai said.
The state attorneys general involved in the lawsuit argue that the T-Mobile-Sprint merger will lessen competition and that prices are likely to be higher if the merger is approved. They also claim that the merger will harm independent wireless dealers and that the consolidation will lead to a loss of retail jobs.
Ajit Pai first came out in support of T-Mobile and Sprint's merger last month when the two carriers made commitments tied to the deal's completion. T-Mo and Sprint have said that they'd sell Boost Mobile, commit to meeting 5G and in-home broadband rollout goals, and no raise prices for three years. Both Pai and FCC Commissioner Brendan Carr have come out in support of the merger, but it's still being review by the U.S. Department of Justice, which rumors say want T-Mo and Sprint to help create a competitive fourth U.S. carrier before it will approve the merger.
Thanks, Ben!
Source: FCC