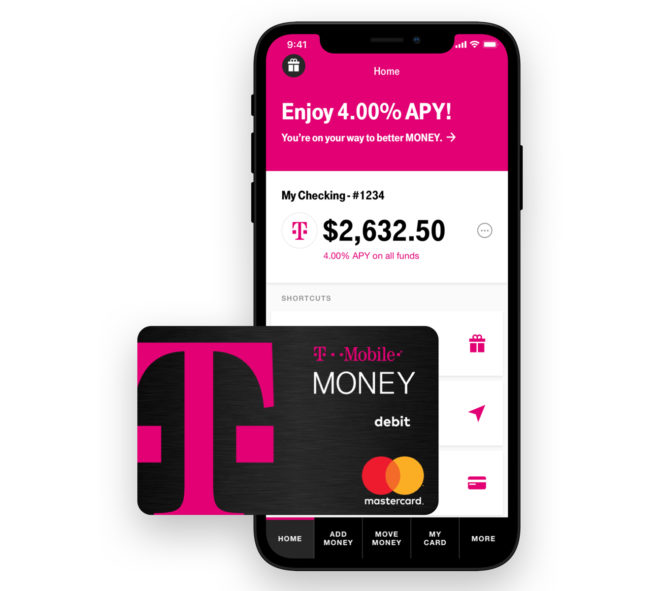 Following a quiet pilot launch at the end of 2018, T-Mobile Money is ready for its national debut.
T-Mobile Money is a mobile-focused checking account. You can open and manage an account from your smartphone, get 24/7 support over the phone, and use the T-Mobile Money app to find one of 55,000 ATMs if you need to get cash. T-Mobile Money is open to everyone, T-Mo customer or not.
With this new service, T-Mobile postpaid customers can earn 4.00% APY on balances up to $3,000 and 1.00% APY on every dollar after $3,000 when they sign up with their T-Mobile ID and deposit at least $200 every month. All other customers get 1.00% APY.
T-Mobile Money also boasts a feature called Got Your Back overdraft protection. Available to T-Mo's postpaid customers, Got Your Back overdraft protection will let you go $50 in the red without penalty, so long as you bring your account back to a positive balance within 30 days.
There are no monthly fees or account balance minimums with T-Mobile Money. You can use the companion app to perform many of the actions that you'd want from your bank, including making mobile check deposits, setting up direct deposit, sending a check, transferring money, making peer-to-peer payments, and paying with a mobile wallet like Apple Pay, Google Pay, or Samsung Pay. The T-Mobile Money app also offers account alerts and the ability to disable your debit card.
You can download the T-Mobile Money app for Android right here, and the iOS app can be found here.
T-Mobile Money comes with a Mastercard debit card for those times when you need a physical payment method. You can also use the card to get cash at more than 55,000 Allpoint ATMs around the world.
T-Mo has partnered with BankMobile to get T-Mobile Money going. Deposits made with T-Mobile Money are FDIC-insured up to $250,000.
It might seem kind of strange for T-Mobile to get into banking, but it's not actually T-Mo's first foray into banking services. T-Mobile launched Mobile Money back in 2014 as a way to help consumers avoid ATM, overdraft, and monthly maintenance fees using a Visa prepaid card and a Mobile Money app. That service shut down in mid-2016, and now T-Mobile feels that it offer a better banking solution, so it's rolling T-Mobile Money out nationwide.
What do you think of T-Mobile Money? Now that it's out of the pilot phase and rolling out nationwide, are you going to try it?
Source: T-Mobile (1), (2)