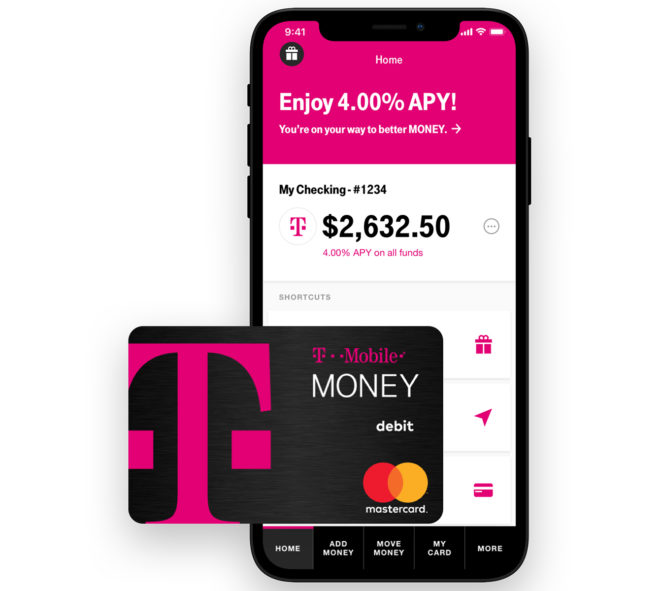 After ending its Mobile Money product more than two years ago, T-Mobile is getting back in the game with a new banking service.
T-Mobile Money quietly launched today with a new website as well as Android and iOS apps, though without any major announcements from T-Mo, it feels like this program is in a bit of a pilot stage right now. With T-Mobile Money, T-Mo says that there are no account fees, no maintenance fees, and no minimum balances. T-Mo also promises that customers will have access to 55,000 no-fee ATMs through Allpoint and that it won't charge you if you use an out-of-network ATM, though you still may be hit with a fee by that ATMs owner and T-Mo won't rebate those fees.
With the T-Mobile Money service, everyone will earn 1.00 percent annual percentage yield on all balances. T-Mo customers with a qualifying plan — like T-Mobile One, Simple Choice, and other postpaid plans — who deposit at least $200 per month can earn 4.00 percent annual percentage yield on checking account balances up to $3,000.
Another benefit for T-Mobile customers is Got Your Back, which offers up to $50 of spending in overdrafts with no fees. This feature is available to eligible T-Mobile customers on a qualifying postpaid plan who make a one-time deposit of $200 in a single month. With this feature, you'll have 30 days from the date your account becomes negative to bring it back to a positive balance.
T-Mobile Money offers a physical debit card that's associated with Mastercard. The service supports digital wallets, too, including Apple Pay, Google Pay, and Samsung Pay. Other notable features of T-Mobile Money include automatic bill pay, direct deposit, mobile check deposits. If you want to deposit cash, though, you'll have to either get a money order, a cashier's check, or make a deposit at another bank and then transfer that to your T-Mobile Money account.
T-Mobile has partnered with BankMobile for its T-Mobile Money service, and the company says that your account is FDIC-insured up to $250,000. As for why T-Mobile decided to get into the banking game, here's what it has to say:
"Because fixing broken industries is a part of our DNA – it's what we've done in wireless. And we heard over-and-over from our employees and customers their pain and frustration with their current banking options. So, we believe we can do more by partnering with a proactive bank, BankMobile. And that's why the Un-carrier is disrupting banking by offering better MONEY through our partnership."
You can find the T-Mobile Money app for Android here, and the iOS app is right here.
What do you think of T-Mobile Money?
Source: T-Mobile Money