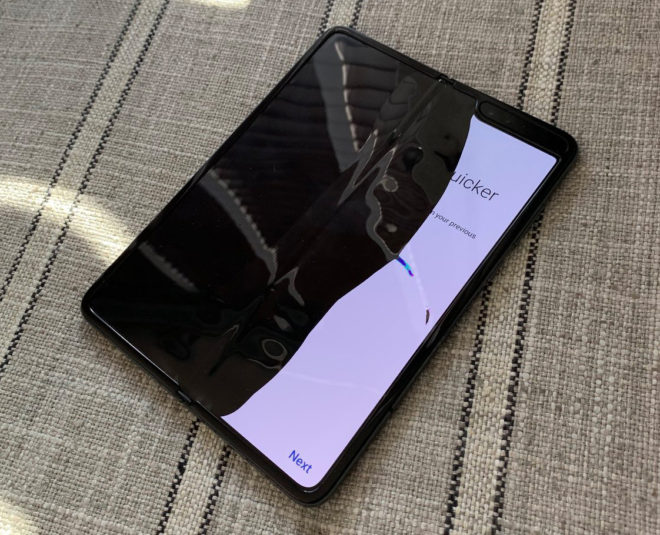 The Samsung Galaxy Fold is launching at T-Mobile later this month, and if you're thinking about buying the new foldable device, there's something you should know about it before taking it out of the box.
Galaxy Fold review units being used by Bloomberg, CNBC, and The Verge were all hit with broken displays today, with photos and video showing half of the Galaxy Fold's flickering or completely black. The cause of the problem is unknown, but both Bloomberg and YouTuber MKBHD report that they pulled off the phone's protective layer, not knowing that it's not meant to be taken off. CNBC and The Verge say that they didn't touch the protective layer but that their Galaxy Folds are still suffering from a broken display.
My colleague opened the Galaxy Fold and it started doing this. So, long answer to your question @WilfredFrost, the hinge doesn't seem very rugged after all. After two days: pic.twitter.com/Z1F8iwjURa

— Todd Haselton (@robotodd) April 17, 2019
T-Mobile's Des Smith shared a photo of a warning not to remove this protective layer following the reports of Galaxy Fold units suffering from broken displays. A wrap covering the screen of the Galaxy Fold says not not remove the "special protective layer" of the device, as it could cause damage. However, it sounds like the warning wasn't included with these review units. 
Dear future #GalaxyFold owners, I know I always say "No one ever read the instructions"… PLEASE READ THIS ONE!!!

(This is the wrap over the screen of the Galaxy Fold) pic.twitter.com/LuQPRfDZIE

— Des (@askdes) April 17, 2019
Here's the full warning:
"ATTENTION
The main screen includes a special protective layer. Peeling off the protective layer or using any adhesives on the main screen, such as screen protectors or or stickers, may cause damage."
Samsung hasn't yet issued an official statement regarding these problems. The news that the displays of some review units are breaking just one or two days into their use isn't great for the Galaxy Fold, though, especially days before the $1,980 smartphone launches. It's unlikely that every single Galaxy Fold display will break like these units, but this may be something to consider if you've been thinking about buying the Galaxy Fold.
T-Mobile will launch the Galaxy Fold in stores on April 26th.
UPDATE: Samsung has issued a statement on this situation, saying that it will "thorougly inspect" the broken Galaxy Folds to find the cause of the problem. It also says that it plans to make it clear to owners that they should not remove the display's protective layer and that the Galaxy Fold will still launch in the U.S. on April 26th.
Here's Samsung's full statement to the Wall Street Journal:
"A limited number of early Galaxy Fold samples were provided to the media for review. We have received a few reports regarding the main display on the samples provided. We will thoroughly inspect these units in person to determine the cause of the matter.

"Separately, a few reviewers reported having removed the top layer of the display causing damage to the screen. The main display on the Galaxy Fold features a top protective layer, which is part of the display structure designed to protect the screen from unintended scratches. Removing the protective layer or adding adhesives to the main display may cause damage. We will ensure this information is clearly delivered to our customers."
Sources: AskDes, Mark Gurman, Steve Kovach, The Verge