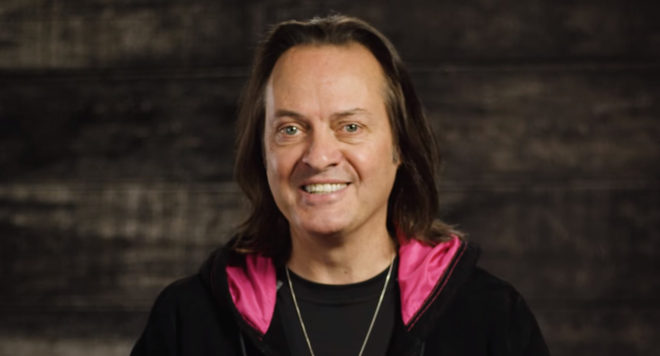 John Legere gets a lot of credit for helping to turn T-Mobile into the company it is today, rolling out Un-carrier moves and making T-Mo more competitive. If you've ever wondered what kind of compensation Legere gets for transforming T-Mobile, some details on that have now come out.
T-Mobile granted Legere a compensation package worth $66.5 million last year, most of which came from a stock award that was given to him the day that T-Mo's proposed merger with Sprint was announced. That payout is tied to Legere sticking around to see the merger through completion and to T-Mobile's stock return, but he can also get his award if the deal fails by remaining as T-Mo CEO for another year and getting the carrier's shares to outperform other firms.
T-Mo's CEO will get around 600,000 shares of T-Mobile if its stock return over the coming years falls in the 50th percentile of a group of other carriers and tech companies. That payout is worth around $44 million. If T-Mobile outperforms more than half of its competition during that time, though, he'll get up to twice as many shares. Other T-Mo execs are getting similar, but smaller, payouts.
In addition to those shares, Legere pulled in $8 million in salary and bonuses and around $14.4 million worth of equity awards.
Legere joined T-Mobile as its new CEO in 2012, and since then he's helped to roll out major Un-carrier moves like eliminating contracts and its single T-Mobile One unlimited plan. While some feel that T-Mobile's recent Un-carrier moves are underwhelming, there are moves that've helped change the industry. This week Legere revealed that T-Mobile continues to grow, with 24 straight quarters of adding more than 1 million customers to the subscriber base.
Source: Bloomberg