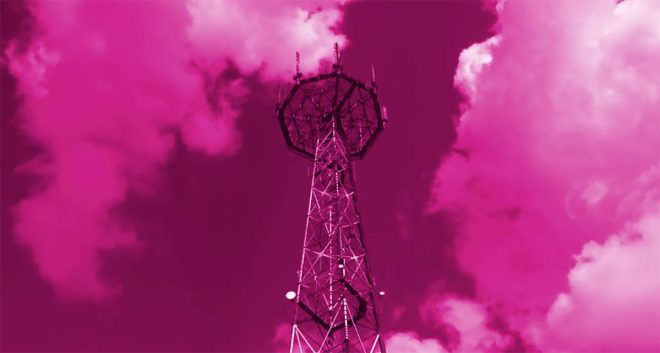 Network congestion can be a real pain, slowing down speeds on your phone and possibly making it annoying to try and use the internet. But where is congestion the worst? A new report claims to have that info.
Salinas, CA and Warren, MI are among the five worst cities for network congestion on T-Mobile's network, according to Tutela Technologies. The research firm measured download speeds on T-Mobile's 3G and 4G networks using a 2MB file and found that those two cities had the worst congestion, with speeds dropping 59.8 and 59.5 percent, respectively, from off-peak to on-peak times.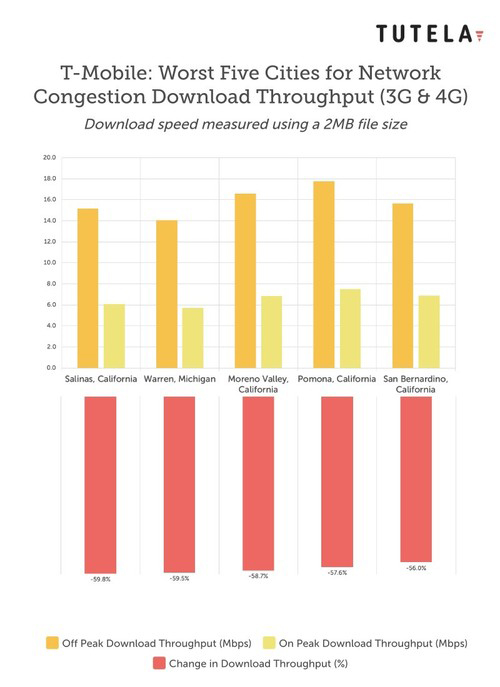 The other three cities rounding out the top five worst cities for T-Mobile network congestion include Moreno Valley, CA with a 58.7 percent drop in speed during on-peak hours; Pomona, CA with a 57.6 percent change in speed; and San Bernardino, CA, which showed a 56.0 percent drop in download speeds during on-peak hours.
This report also listed off the top five best cities for T-Mobile network congestion, meaning these places are where download speeds change the least from off-peak to on-peak hours. Chattanooga, TN was the best, with just a 13.0 percent drop in download throughput during peak hours, while Bellevue, WA (where T-Mo's headquarters are located) came in second with a 15.1 percent change in download throughput during peak hours.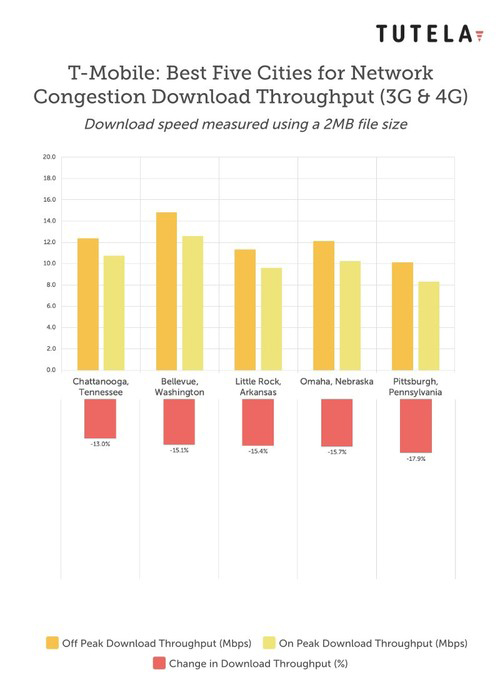 Other cities that enjoy the least network congestion include Little Rock, AR with a 15.4 percent change in download throughput during peak hours; Omaha, NE with a 15.7 percent change; and Pittsburgh, PA with a 17.9 percent change.
Tutela said of its findings that in T-Mobile's less congested cities, there was more data traffic over 1900MHz spectrum and less traffic over lower band spectrum, especially 700MHz. The majority of T-Mo's traffic in cities with more network congestion use the 1700MHz AWS-1 band. The research firm also said that T-Mo has more customers in markets with more network congestion, which suggests that the congestion is being caused by a large amount of customers.
To reach its findings, Tutela places a small piece of testing software in some U.S. smartphones by getting Android and iOS developers to insert that software in their apps. This software then runs in the backgound and tests network speeds and other variables. For this network congestion report, Tutela examined data from around 200 of the top U.S. markets, took the average download speeds during off-peak and on-peak hours, and compared the difference.
In response to this report, T-Mobile said to Light Reading, "We're always expanding our network coverage and enhancing it with new technologies and added capacity for customers." T-Mo went on to say that it's deploying more low-band spectrum and adding more mid-band sectors or sites to help make its network more dense. We regularly get updates from T-Mobile when it expands its low-band and mid-band LTE coverage, including some in the past couple of weeks.
Do you live in one of the cities with the worst or best T-Mobile network congestion?
Source: Light Reading