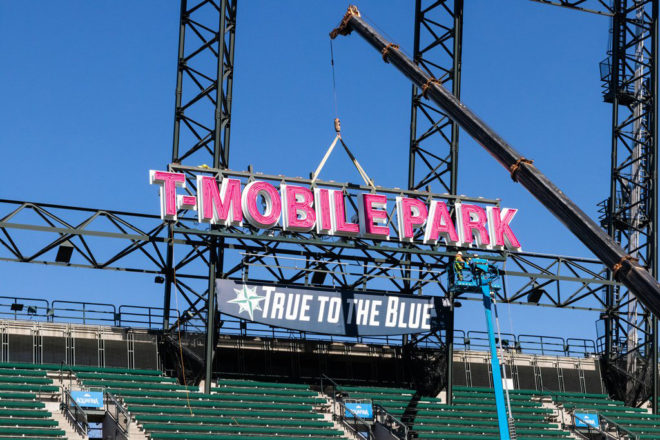 With days to go before MLB's Opening Day for the 2019 season, more details on T-Mobile Park and the improvements T-Mo has made to it have come out.
T-Mobile customers can look forward to improved coverage when attending a Mariners game at T-Mobile Park. Capacity in and around T-Mobile Park has been increased by three times, T-Mo confirmed to GeekWire. If you need to recharge your phone after a bunch of sharing and photo snapping, you should look for a magenta-colored steel support beam, which will offer 32 outlets for mobile device charging.
Another benefit that T-Mo customers can look forward to at T-Mobile Park is a fast track entry. A special T-Mobile Customer Entrance can be found on the left field side of the stadium, letting subscribers get into the ballpark more quickly by showing the attendant their phone. This fast track entry will be good for any event at the park.
Once you're inside that gate, you'll be able to visit The 'Pen, which T-Mo has said let you watch the Mariners during batting practice and pitcher warm-ups when it opens 30 minutes early. There will be surprise giveaways and a live DJ on select days, too, and T-Mobile has concocted a new cocktail called the Magenta Mojo that'll sell for $12.50.
T-Mobile previously confirmed that it'll be bringing T-Mobile Tuesdays to Mariners games as well. At Tuesday home games, T-Mobile will give customers surprise seat upgrades and free stuff.
Overall it looks like T-Mobile customers will have a lot of perks to look forward to when attending Mariners games this season. One of the most exciting is the increased capacity, which should help ensure that you can share photos and videos while you're enjoying a game.
When it announced the new T-Mobile Park name last year, T-Mobile confirmed that the naming rights deal will last through December 2043. Reports have suggested that the deal has an annual value of $3.7 million, which means the 25-year deal is worth $87.5 million.
Are you planning to attend a Mariners game at T-Mobile Park this coming season?
Source: GeekWire