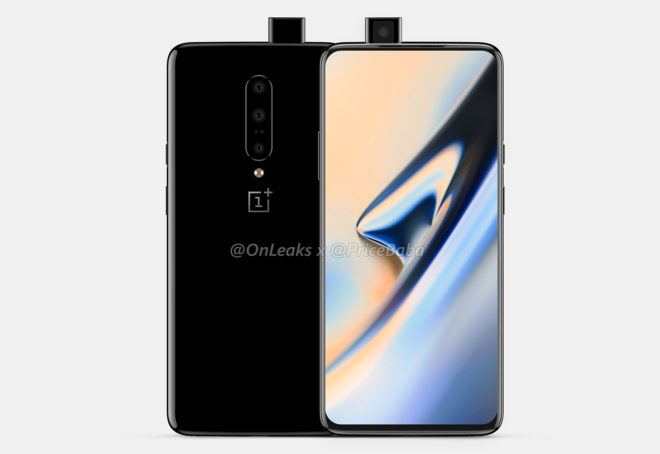 The OnePlus 6T was the first OnePlus phone to be sold by a carrier in the U.S., and it was T-Mobile that partnered with OnePlus on the launch. Now details on the next big OnePlus phone have leaked.
Renders that allegedly show the OnePlus 7 have leaked. The renders come from OnLeaks and PriceBaba, and one thing to keep in mind is that they're not official renders made by OnePlus but instead are based on factory CADs. Now to dig into them to see what changes the OnePlus 7 might bring.
One of the biggest changes from the OnePlus 6T to this OnePlus 7 involves the front camera. While the OnePlus 6T had a waterdrop notch that house the selfie cam, this OnePlus 7 ditches the notch entirely and instead uses a pop-up mechanism to show and hide the front-facing camera. This would allow OnePlus to slim the bezel at the top of the OnePlus 7's screen and give the display a cleaner look.
Around back is another big change. While the OnePlus 7 had a dual rear camera setup, this OnePlus 7 has three rear cameras. Details on the features of these cameras aren't known, though. Other features of this OnePlus 7 include a speaker and USB-C port on the bottom and power and volume buttons on the sides as well as an alert slider. There's no visible fingerprint reader, suggesting that the OnePlus 7 could use an in-display fingerprint sensor like the OnePlus 6T before it. The display is rumored to be a 6.5-inch panel.
There are no rumors yet on when the OnePlus 7 might be announced or which carriers it might be available from. It's possible that T-Mobile will carry the OnePlus 7 after launching the OnePlus 6T last year, especially since sales of the OnePlus 6T in its first 30 days were up 249 percent compared to the OnePlus 6, a boost that T-Mobile availability likely played a part in.
What do you think of this leaked OnePlus 7? Would you buy if it was available from T-Mobile?
Source: PriceBaba