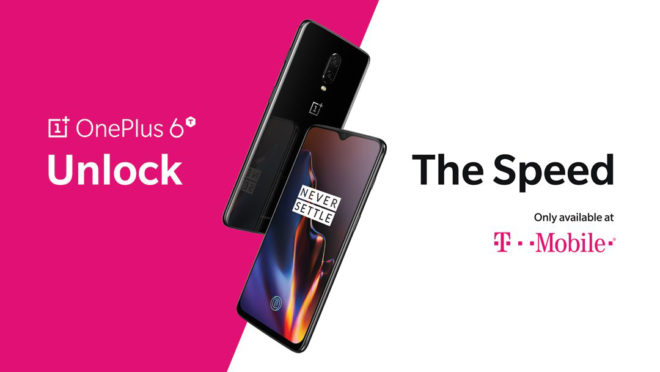 After several teasers and leaks, the OnePlus 6T has made its official debut. And yes, it's coming to T-Mobile.
One of the most notable upgrades from the OnePlus 6 to the OnePlus 6T is with the display. The AMOLED screen on the OnePlus 6T is slightly larger than the OnePlus 6's, coming in at 6.41 inches with a resolution of 2340×1080. It's also got a waterdrop-style notch that's smaller than the notch on the OP6 and, as confirmed earlier this year by OnePlus, the OnePlus 6T has a fingerprint sensor built into its screen that replaces the rear fingerprint reader on the OP6.
Another notable upgrade included with the OnePlus 6T is its battery. While the OnePlus 6 came with a 3300mAh battery, the OnePlus 6T has been bumped up to a 3700mAh battery pack.
Inside, many of the specs of the OnePlus 6T are similar to the OnePlus 6. That's not a bad thing, though, as the OP6 had pretty high-end features. The OnePlus 6T boasts a Snapdragon 845 processor paired with up to 8GB of RAM, and there's up to 256GB of built-in storage. The front-facing camera on the OnePlus 6T is a 16MP sensor.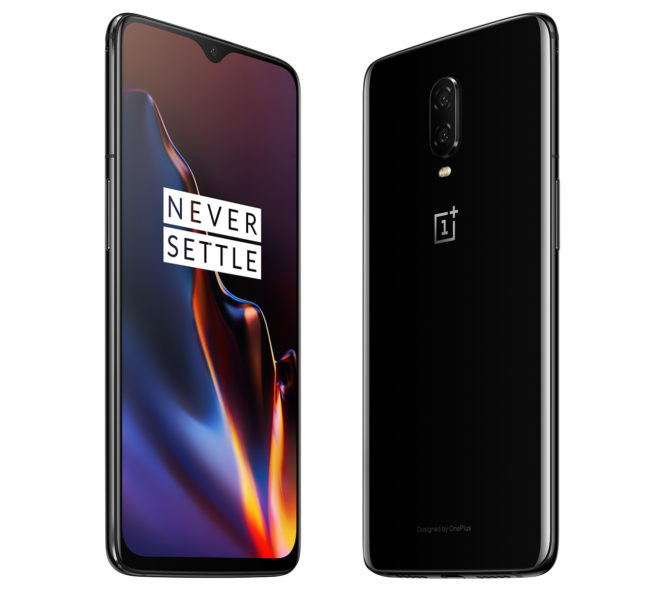 The dual rear camera setup on the OP6T is similar to the OP6, offering 16MP and 20MP cameras. Also included are features like optical image stabilization, electronic image stabilizatoin, 480fps slow-mo video capture, and Nightscape, a OnePlus feature that uses an HDR algorithm to improve the quality of low-light photos. OnePlus says that it's bringing Nightscape to the OP6, too. Another camera feature is Studio Lighting, which will recognize a human face in the frame and adjust the lighting to simulate professional lighting.
One thing that the OnePlus 6 had but the OnePlus 6T lacks is a 3.5mm headphone jack. OnePlus is including an adapter in the box that'll let you use your 3.5mm headphones with the OnePlus 6T's USB-C port, though.
On the software side, the OnePlus 6T comes with Android 9.0 Pie running below OnePlus's custom OxygenOS user interface. OnePlus touts that it's UI includes Full Screen Gestures 2.0 to help you more quickly move through the operating system. There are also more than 500  targeted optimizations made in this new version of OxygenOS to help make things smoother and faster.
As you might expect from a flagship phone launching at  T-Mobile in 2018, the OnePlus 6T includes support for LTE bands 2, 4, 5, 12, 66, and 71. It also includes support for features like 256 QAM, 4×4 MIMO, carrier aggregation, and License Assisted Access (LAA). Here's the full list of the OP6T's supported LTE bands: 1, 2, 3, 4, 5, 7, 8, 12, 13, 17, 18, 19, 20, 25, 26, 28, 29, 30, 32, 34, 38, 39, 40, 41, 46, 66, and 71.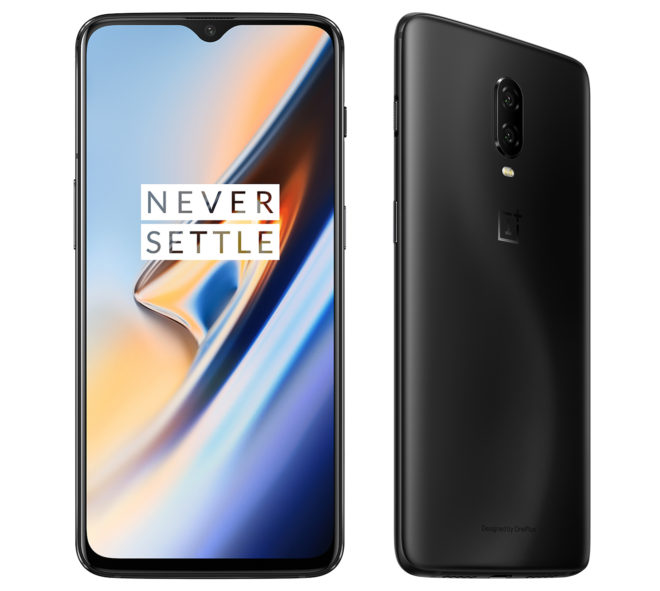 The OnePlus 6T will be available starting November 1, and just as the rumors predicted, it'll be sold by T-Mobile. That's big news because it marks the first time that a OnePlus phone will be available from a U.S. carrier. What's more, the OnePlus 6T will be available in more than 5,600 T-Mobile stores, allowing customers to take the OP6T for a test drive before they buy.
Pricing for the unlocked OnePlus 6T will start at $549 for the 6GB/128GB model and go up to $579 for the 8GB/128GB model, while the top-end 8GB/256GB model will be priced at $629. The OnePlus 6T will launch at 9:00 am ET on November 1. Color options include glossy Mirror Black (6GB/128GB and 8GB/128GB) and matte Midnight Black (8GB/128GB and 8GB/256GB).
T-Mobile will sell the OnePlus 6T model with 8GB of RAM and 128GB of built-in storage. Pricing will be $0 down and $24.17 per month for 24 months on EIP. If you'd prefer to use JUMP! On Demand, you can expect to pay $28 down and $24 per month for 18 months with a $120 residual.
T-Mobile also plans to offer a special trade-in deal for the OnePlus 6T. Just trade in an eligible device and you'll get $300 off the cost of the OP6T, doled out via monthly bill credits. This will reduce the price to $0 down and $11.67 per month for 24 months on EIP. The phones that are eligible for this trade-in offer include:
Apple: iPhone 8, iPhone 8 Plus, iPhone 7, iPhone 7 Plus, iPhone 6s, iPhone 6s Plus, iPhone 6, iPhone 6 Plus
Samsung: GS8 series, Note 8, GS7 series, Note 5, GS6 series
Google: Pixel 2, Pixel 2 XL, Pixel, Pixel XL
LG: V30, V30+, G7, V20, G6
Motorola: Z2 Force; Z2 Play; Nexus 6
OnePlus: 5, 5T, 6, 3, 3T, X, 2, 1
The OnePlus 6T isn't drastically different from the OnePlus 6, but it does make some nice improvements, like the smaller notch and bigger battery. The OP6T is more attractive than its predecessor for T-Mobile customers for another reason, which is the fact that T-Mo will be selling it, enabling folks to buy the OnePlus 6T on EIP or JOD. Lots of folks still buy their phones from their carrier, so the OnePlus 6T's arrival on T-Mobile ought to expose a lot of people to OnePlus for the first time.
What do you think of the OnePlus 6T? Are you thinking about buying one from T-Mobile?