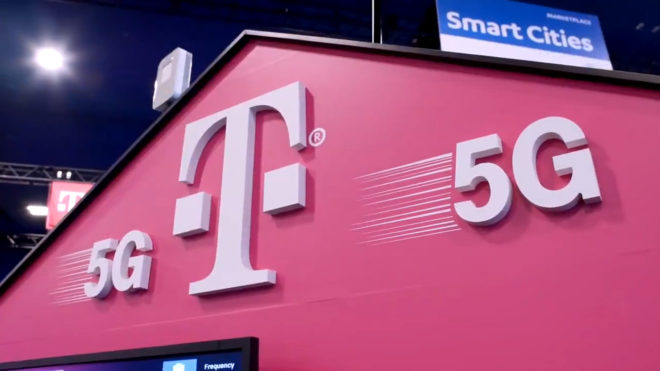 We've been expecting to see T-Mobile flip the switch on its 5G network in the first half of 2019, but now it looks like we'll have to wait a bit longer.
T-Mobile is now planning to launch its 5G network in the second half of 2019. T-Mo CTO Neville Ray confirmed the delay to CNET, saying that he'd hoped that the companies making phones and chipsets would be ready to make devices compatible with 600MHz spectrum, which T-Mobile plans to use for its 5G network. However, those devices aren't expected later this year.
T-Mobile will sell the Samsung Galaxy S10 5G, which it's said will launch this summer. That devices supports millimeter wave (mmWave) spectrum, which T-Mo also plans to use for its 5G network. That spectrum offers high speeds but over shorter distances, though, while 600MHz offers slower peak speeds but greater reach. Ray said that while T-Mobile will sell the Galaxy S10 5G, it may not market the benefits since its mmWave deployment is limited.
T-Mo has been building out its 5G coverage in 30 cities across the U.S., including New York City, Los Angeles, Dallas, and Las Vegas. Now we know that we'll have to wait longer than expected to jump on that network. The news is disappointing for sure, but it's likely that T-Mobile is delaying its 5G launch because it doesn't want to advertise its 5G network and 5G phones, but then have consumers relying on shorter range mmWave spectrum to get that 5G coverage. Instead, it'll wait to formally launch its 5G network in the latter half of the year when phones that can tap into the longer range 600MHz spectrum will be available.
UPDATE: T-Mobile contacted TmoNews with more information on its 5G plans. The carrier says that there is no 5G network delay and that today's news is referring to its 600MHz 5G coverage. While 5G devices that support 600MHz won't launch until later in 2019, T-Mobile still plans to launch 5G using other spectrum in the first half of the year.
Sorry, Roger. That's wrong. We've always said we'd launch when phones are available and they will be in H1. H2 is just when it gets more meaningful … but there's no delay and no change of plans.

— Neville (@NevilleRay) February 25, 2019
Source: CNET