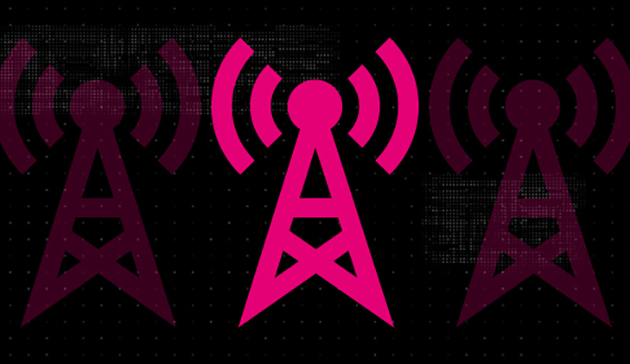 More mid-band LTE capacity upgrades have been deployed by T-Mobile.
T-Mobile CTO Neville Ray says that T-Mo upgraded hundreds of cell sites with additional mid-band LTE capacity during the past two weeks. These upgrades include both PCS and AWS spectrum.
100s of sites were upgraded with more midband capacity in just the last two weeks and #WeWontStop! This is why we've had the fastest LTE network for 4 years!! @TMobile @MetroByTMobile #Amped pic.twitter.com/GfaiTu2wLc

— Neville (@NevilleRay) December 12, 2018
T-Mo has been on a pretty steady roll with deploying mid-band LTE and low-band LTE network upgrades on a bi-weekly basis, and that trend continues today. Included in this latest batch of mid-band LTE upgrades are markets like Phoenix, AZ; Atlanta, GA; Ames, IA; Boxborough, MA; and Sammamish, WA. As usual, I've got the full list of upgraded cities and towns below.
Page, AZ
Gilbert, AZ
Phoenix, AZ
Chico, CA
Gustine, CA
Stockton, CA
Santa Cruz, CA
Oakland, CA
Fremont, CA
Millbrae, CA
Ridgecrest, CA
Santa Maria, CA
Orange, CA
Beaumont, CA
Baldwin Park, CA
Granada Hills, CA
Monrovia, CA
Lakewood, CA
Pico Rivera, CA
Placerville, CO
Peyton, CO
Henderson, CO
Englewood, CO
West Haven, CT
North Port, FL
North Palm Beach, FL
Wewahitchka, FL
Vernon, FL
Panama City, FL
Hephzibah, GA
Athens, GA
Atlanta, GA
Jonesboro, GA
Tucker, GA
Alpharetta, GA
Eagle, ID
Chicago, IL
Hinsdale, IL
Mokena, IL
Crystal Lake, IL
Terre Haute, IN
Saint John, IN
Cedar Rapids, IA
Elkhart, IA
Ames, IA
Middle River, MD
Gaithersburg, MD
Greenbelt, MD
Glenn Dale, MD
Arlington, MA
Lexington, MA
Whitman, MA
Plymouth, MA
Abington, MA
Halifax, MA
Carver, MA
Bridgewater, MA
North Weymouth, MA
Walpole, MA
Norfolk, MA
Hingham, MA
Cohasset, MA
Nahant, MA
Saugus, MA
Sudbury, MA
Stow, MA
Boxborough, MA
Cambridge, MN
Springfield, MO
Rolla, MO
Troy, MO
Plentywood, MT
Stateline, NV
Orovada, NV
Morristown, NJ
Dover, NJ
Freehold, NJ
Jersey City, NJ
North Bergen, NJ
Hatch, NM
Dulce, NM
Albuquerque, NM
Waterloo, NY
East Quogue, NY
Lindenhurst, NY
Brooklyn, NY
Mount Vernon, NY
Staten Island, NY
New York, NY
Fayetteville, NC
Raleigh, NC
Winston Salem, NC
South Point, OH
Tulsa, OK
Fletcher, OK
Marietta, OK
Scranton, PA
State College, PA
Bayamon, PR
Juana Diaz, PR
Mayaguez, PR
Cranston, RI
Piedmont, SC
Columbia, SC
Big Spring, TX
Midland, TX
Donna, TX
San Antonio, TX
Sealy, TX
Houston, TX
Fort Worth, TX
Hampton, VA
Alexandria, VA
Springfield, VA
Leavenworth, WA
Monroe, WA
Sammamish, WA
Weston, WV
Ravenswood, WV
Yawkey, WV
Mount Alto, WV
Elkview, WV
Stratford, WI
Neillsville, WI
Richland Center, WI
Source: Neville Ray (Twitter)