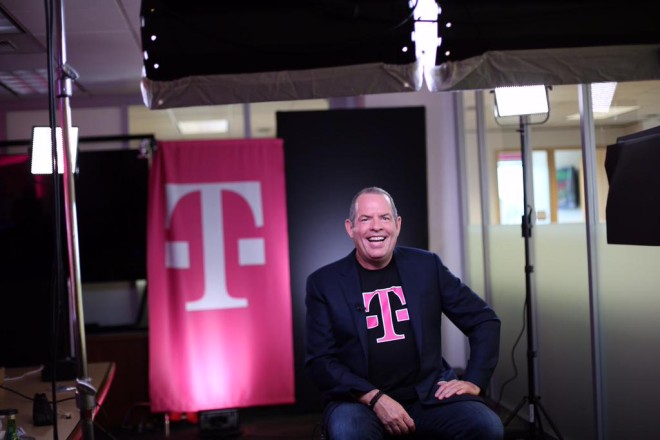 After suggesting last month that the proposed merger of T-Mobile and Sprint could close as soon as Q1 2019, T-Mobile CFO Braxton Carter recently touched a bit more on the deal.
Carter recently explained that T-Mobile is "applying the same philosophy" with the Sprint merger as it did when it acquired MetroPCS. "The playbook that we did with Metro, it wasn't combining two networks. It was shutting one network down and extracting some assets (from) that network to enhance the T-Mobile network," he said.
The process would begin with new customers visiting Sprint stores, who would be signed up for T-Mobile plans rather than a Sprint plan. When T-Mobile's network had enough capacity, it would begin moving Sprint customers over to the T-Mo network.
Carter then explained that T-Mobile would eventually shut down Sprint's network once those customers were moved over, enabling them to close select cell sites and reallocate spectrum. The CFO said that T-Mobile would consolidate spectrum and close Sprint cell sites on a city-by-city basis. "If you don't do it right, you'll end up losing a lot of customers," Carter added.
Carter also recently said that a combined Sprint and T-Mobile would have a eight-fold increase in capacity and 15-fold increase in speeds, echoing statements that he's previously made about the merger. "Basic economics is if you have that increase in capacity, you are economically [incentivized] to fill that capacity," the T-Mobile CFO said of the propsed Sprint merger. "We have massive fixed costs and leveraging those fixed costs to expand margins and have an appropriate return on the $40 billion we're going to put into the network in the next three years is a huge basic, economic reality and thrust that supports this will be highly competitive to the U.S."
The T-Mobile-Sprint merger is currently being reviewed by the FCC and DoJ, the former of which recently resumed the 180-day shot clock on its review of the deal. T-Mo recently submitted a new filing to the FCC with a focus on the claim that it needs to merge with Sprint in order to be more competitive with AT&T and Verizon, which some analysts suggested could be because regulators weren't very receptive to T-Mobile's previous arguments for the deal. However, it's unclear how the regulators will come down on the deal.
Based on what we've heard of the deal and the arguments for and against it, do you think the T-Mobile-Sprint merger will be approved by regulators?
Sources: Puget Sound Business Journal, RCRWireless