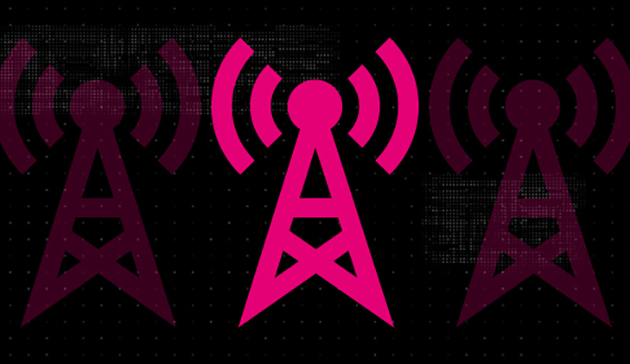 One week after completing a round of low-band LTE upgrades, T-Mobile says that it's rolled out some mid-band LTE upgrades as well.
T-Mobile CTO Neville Ray today confirmed that T-Mo has upgraded hundreds of cell sites with more mid-band LTE capacity in the past two weeks. These upgrades include PCS and AWS spectrum.
100s of sites were upgraded with more midband capacity in just the last two weeks and #WeWontStop! This is why we've had the fastest LTE network for 4 years!! @TMobile @MetroPCS #Amped pic.twitter.com/WQpWShYfI7

— Neville (@NevilleRay) October 17, 2018
These upgrades are spread throughout the U.S., with states like California and Massachusetts getting a large number of upgraded markets. Some of the cities and towns included in this latest batch of upgrades include Mobile, AL; San Diego, CA; New Haven, CT; and Olympia, WA.
You can find the full list of markets that received mid-band LTE upgrades below.
Phenix City, AL
Mobile, AL
Grand Bay, AL
Foley, AL
Mesa, AZ
Phoeniz, AZ
Susanville, CA
Sacramento, CA
North Highlands, CA
Folsom, CA
Modesto, CA
San Jose, CA
Cupertino, CA
Berkeley, CA
Oakland, CA
Concord, CA
San Francisco, CA
Sunnyvale, CA
San Bruno, CA
Bakersfield, CA
Visalia, CA
Riverside, CA
Fontana, CA
San Diego, CA
Solana Beach, CA
Ramona, CA
Oceanside, CA
National City, CA
Chula Vista, CA
Ontario, CA
Mira Loma, CA
Carson, CA
Bellflower, CA
Rancho Palos Verdes, CA
El Segundo, CA
Los Angeles, CA
Twin Lakes, CO
Denver, CO
Norwalk, CT
Naugatuck, CT
Bridgeport, CT
New Haven, CT
Commerce City, CO
Arvada, CO
Washington, DC
Tampa, FL
Palm Coast, FL
Fort Benning, GA
Jefferson, GA
Atlanta, GA
Stockbridge, GA
Riverdale, GA
Jackson, GA
Fairburn, GA
Canton, GA
Tucker, GA
Marietta, GA
Alpharetta, GA
Honolulu, HI
Waianae, HI
Coeur d'Alene, ID
Fairfield, ID
Chicago, IL
Homewood, IL
Crystal Lake, IL
Richland, IN
Bloomington, IN
Indianapolis, IN
Plainfield, IN
Greenwood, IN
McCordsville, IN
Lenexa, KS
Russell, KY
Baton Rouge, LA
Lafayette, LA
Gretna, LA
Baltimore, MD
Gambrills, MD
Hyattsville, MD
Rochester, MA
Attleboro, MA
West Wareham, MA
Buzzards Bay, MA
Weston, MA
Whitman, MA
Plympton, MA
Kingston, MA
Plymouth, MA
Pembroke, MA
Lakeville, MA
Middleboro, MA
Hanover, MA
East Bridgewater, MA
Duxbury, MA
Carver, MA
Bridgewater, MA
Brighton, MA
Allston, MA
Stoughton, MA
Sharon, MA
Norwood, MA
Norwell, MA
Marshfield, MA
Foxboro, MA
Canton, MA
Byfield, MA
Westford, MA
Tewksbury, MA
North Billerica, MA
Haverhill, MA
Billerica, MA
Natick, MA
Marlborough, MA
Boxborough, MA
Littleton, MA
Williamstown, MA
South Rockwood, MI
Gulfport, MS
Potosi, MO
Bozeman, MT
Somerville, NJ
Sayreville, NJ
Old Bridge, NJ
Edison, NJ
Lakewood, NJ
Cranbury, NJ
Gillette, NJ
Summit, NJ
Neptune, NJ
Matawan, NJ
Holmdel, NJ
Paterson, NJ
Newark, NJ
South Plainfield, NJ
Kearny, NJ
Fort Lee, NJ
Dulce, NM
Santa Fe, NM
Ithaca, NY
Medina, NY
Prattsville, NY
East Hampton, NY
Far Rockaway, NY
Valley Stream, NY
Brooklyn, NY
Stony Point, NY
Nanuet, NY
New Rochelle, NY
Mohegan Lake, NY
Staten Island, NY
New York, NY
Sylva, NC
Hickory, NC
Charlotte, NC
Harrisburg, NC
Durham, NC
Raleigh, NC
Cary, NC
Burlington, NC
Cleveland, OH
Saint Clairsville, OH
Ardmore, OK
Roseburg, OR
Albany, OR
Wilsonville, OR
Thompson, PA
Tamaqua, PA
Harrisburg, PA
Meadville, PA
Carolina, PR
Trujillo Alto, PR
Bayamon, PR
Toa Baja, PR
Juana Diaz, PR
Humacao, PR
Guayama, PR
Coto Laurel, PR
Cayey, PR
Ceiba, PR
Vega Baja, PR
Rincon, PR
Moca, PR
Anasco, PR
Aguadilla, PR
East Providence, RI
Providence, RI
Newport, RI
Piedmont, SC
Columbia, SC
Nashville, TN
Abilene, TX
Lubbock, TX
Round Rock, TX
Brownsville, TX
Alamo, TX
Pasadena, TX
Missouri City, TX
Houston, TX
San Angelo, TX
Waco, TX
Harker Heights, TX
Tolar, TX
Fort Worth, TX
Karnack, TX
Dallas, TX
Sherman, TX
Lewisville, TX
Salina, UT
Salt Lake City, UT
Orem, UT
Vernal, UT
Fairfax, VA
Olympia, WA
Monroe, WA
Everett, WA
Redmond, WA
Huntington, WV
Man, WV
Barboursville, WV
Milwood, WV
Buckeye, WV
Green River, WY
Banner, WY
Arvada, WY
Gillette, WY
Casper, WY
Shawnee, WY
Wheatland, WY
Source: Neville Ray (Twitter)